Laser Derusting Machine Parameters
| Laser power | 200w/300w |
| --- | --- |
| Working voltage | 110/220V 50/60 HZ |
| Laser Working Mode | Pulse |
| Average laser power | >300W |
| Power instability | <5% |
| Maximum Pulse Energy | 12.5mJ |
| Pulse width | 2-500ns |
| Cooling method | water cooling |
| Power regulation range(%) | 0-100( Gradient Adjustable) |
| Repeat frequency(kHz) | 1-4000(Gradient Adjustable) |
| Fiber length | 5m |
| Cleaning head weight (including isolator) | <1.5Kg |
| Working environment humidity | ≤80% |
| Working environment temperature | 10℃~40℃ |
Pulse Laser Cleaning Machine Introduction
The 300w pulse laser cleaning machine is a newly designed product. This product uses non-contact cleaning, which can effectively degrease, rust, stain and paint the base material. It can be applied to metal, stainless steel and other materials.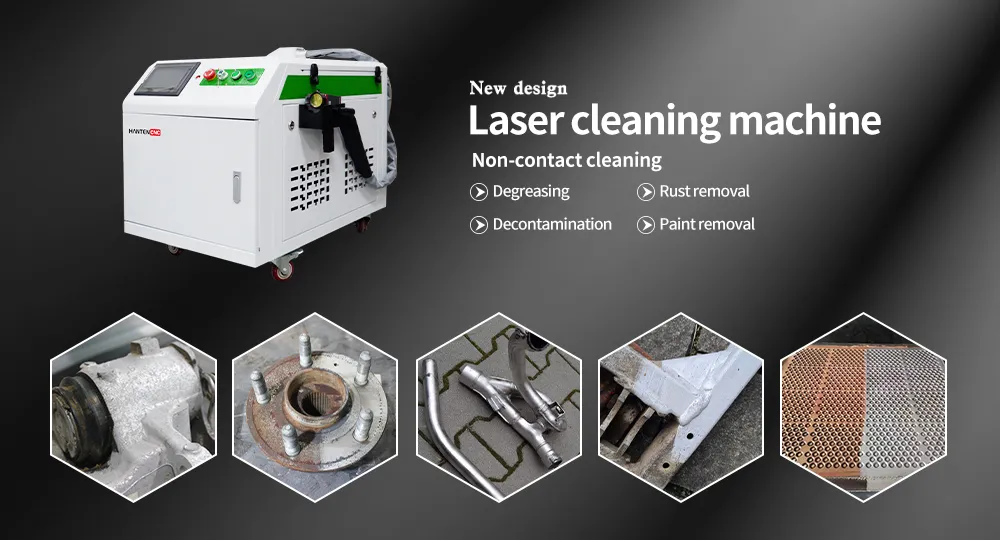 This product is a self-developed pulse laser cleaning machine. The chassis is green and white, making it look more high-end. This product has the three major characteristics of being lightweight, pushable, and safe, making it more convenient for laser cleaning operations.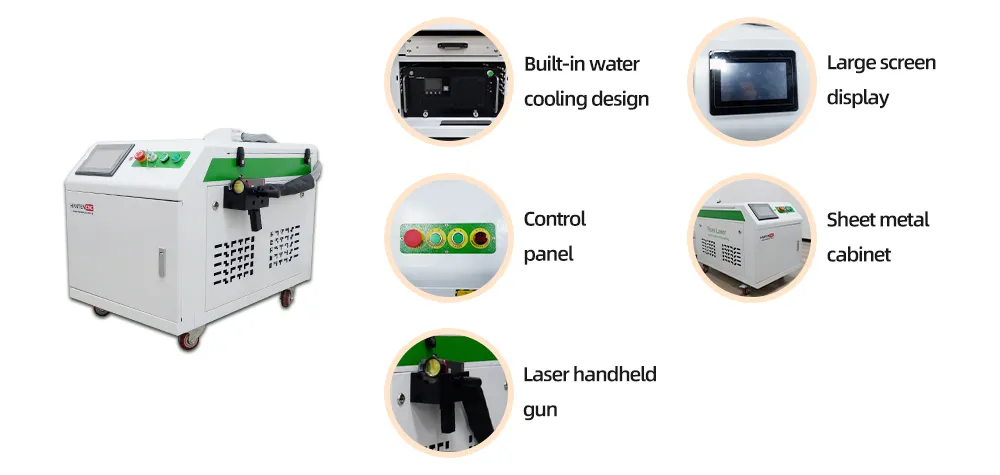 The 300W pulse cleaning machine features a lightweight and heat-resistant handle, equipped with two screens for added convenience. It also comes with two handles for both horizontal and vertical grips, making it extremely user-friendly.

We use button housings to protect the wiring. The material of these button housings is PVC+POM buttons, which are flame retardant and have passed SGS certification.

Pulse Laser Derusting Machine Details
The hand-held pulse laser cleaning head has a good hand feeling. It is light and convenient for long-term hand-held operation.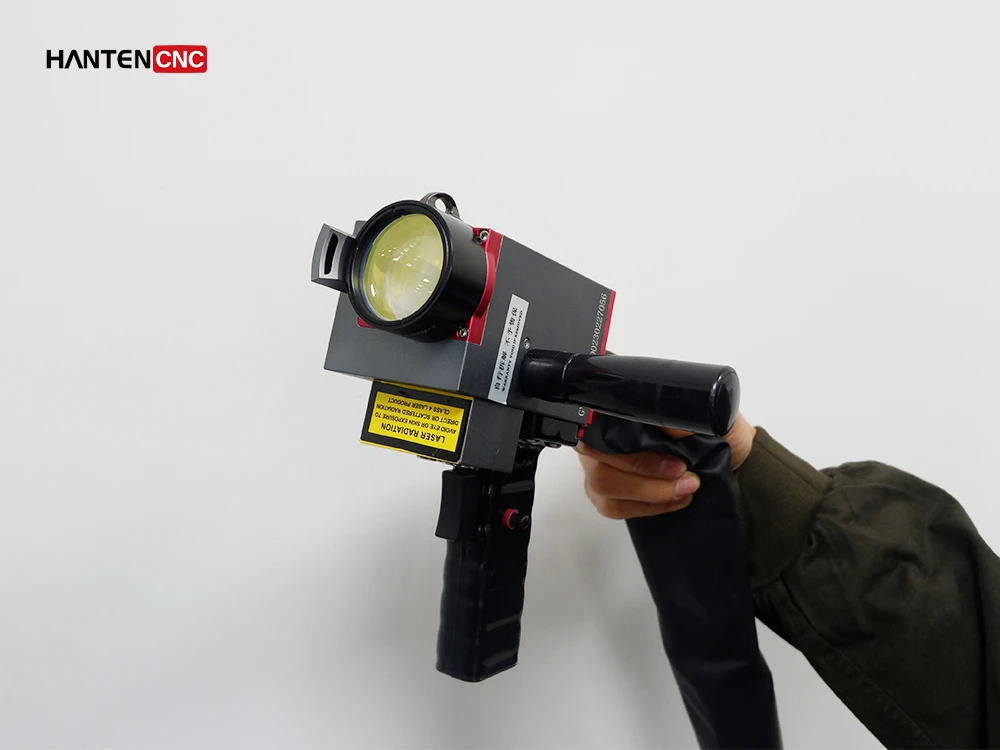 The machine is neat and uniform, concise and clear circuit line panel.
The constant temperature of the water cooling system controls the heat generated by the laser cleaning system. It can better provide protection for laser equipment to function properly.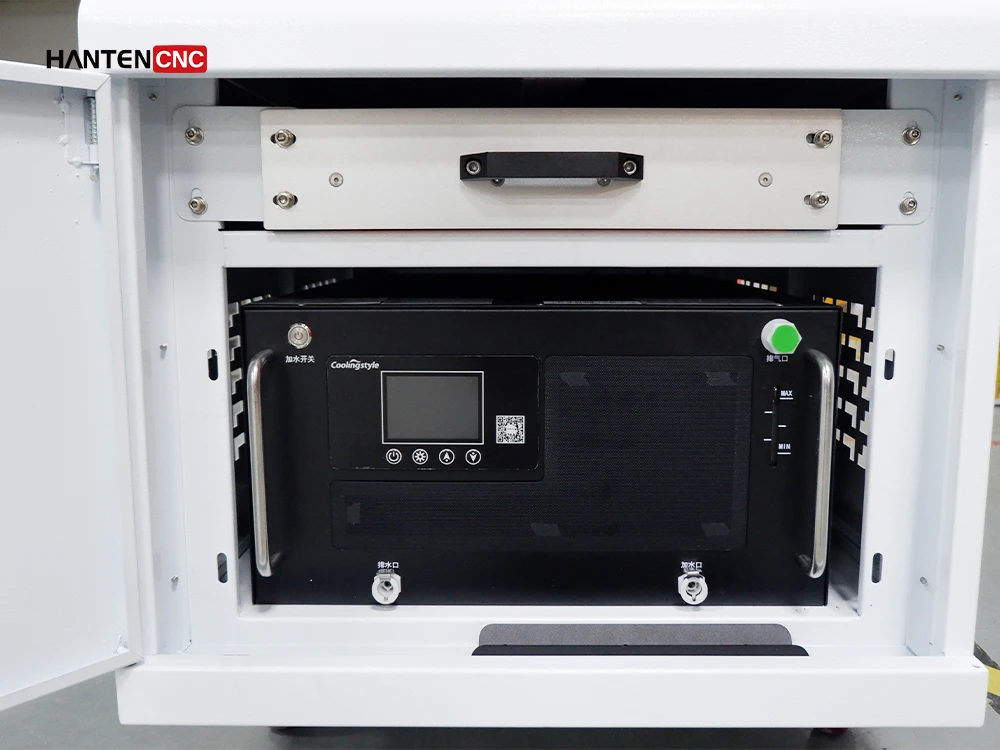 The machine is capable of multifunctional display. It is equipped with a one-button start switch for easy use. The cleaning system of the machine is stable and efficient.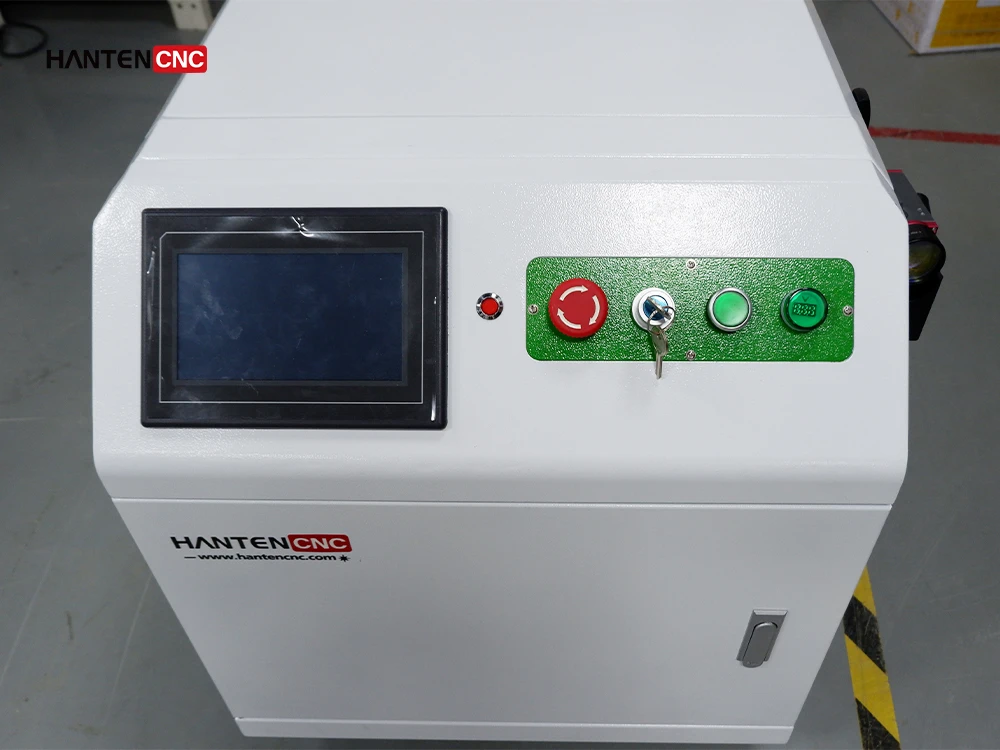 Laser Derusting Machine Application Fields
The laser derusting machine is a high-tech product. It has the advantages of high efficiency, environmental protection, no pollution, and low energy consumption. It is widely used in manufacturing, maintenance, mold industry, restoration of cultural relics and stone industry, and other fields.
Laser cleaner machine is mainly used for cleaning metal surfaces. Parts of cars, planes and railways are cleaned during manufacturing. Laser cleaning can effectively remove the rust, oxide layer, oil stains and so on formed on the metal surface. Traditional cleaning methods can cause damage to the substrate surface. Laser cleaning machines can quickly, efficiently and non-destructively clean metal surfaces.
Cleaning laser machines are mainly used for equipment, tools, parts, etc. For example, mechanical equipment, aviation equipment, electronic equipment, etc. During equipment maintenance, corrosion, rust, and other contaminants often appear on the surface. Using conventional cleaning may wear down the surface of the equipment. The substrate is not damaged during laser cleaning. It is safety, environmental protection, and high efficiency.
Contaminants such as oil stains and welding slag are often attached to the surface of the mold. These pollutants will affect the life of the mold and the use effect. Laser derusting machine can effectively avoid mold surface wear, reduce mold accuracy and other problems.
Laser cleaners can help restore ancient artifacts with paint, stains, or other contaminants. Such as stone carvings, steles, pottery, and metalware. Traditional cleaning methods may cause secondary damage to cultural relics. The laser cleaning machine can accurately control the energy and position of cleaning to avoid damage to cultural relics. In addition, the laser cleaning machine can also clean some difficult-to-clean parts. Such as small sculptures or complex three-dimensional structures.
Laser cleaning machines can clean building materials such as marble, granite, and concrete. Laser cleaning machines can clean large areas of stone more quickly. It can also avoid using chemical cleaning agents to pollute the environment. In addition, the laser cleaning machine can accurately control the depth and intensity of cleaning. It can avoid damage to the stone surface.
The operation interface provides 7 cleaning modes. The operator can click the scan mode option on the interface to switch (cycle switching):
① Linear mode
② Rectangular mode
③ Circular mod
④ Sine mode
⑤ Double helix mode
⑥ Free mode
⑦ Circle

Set the system language mode, currently supports 9 kinds including Chinese, Traditional Chinese, English, Russian, Japanese, Spanish, German, Korean, French, etc.

Pulse Laser Cleaning Machine Cleaning Effect