100w Laser Cleaning Machine Video
Pulse Laser Cleaning Machine Display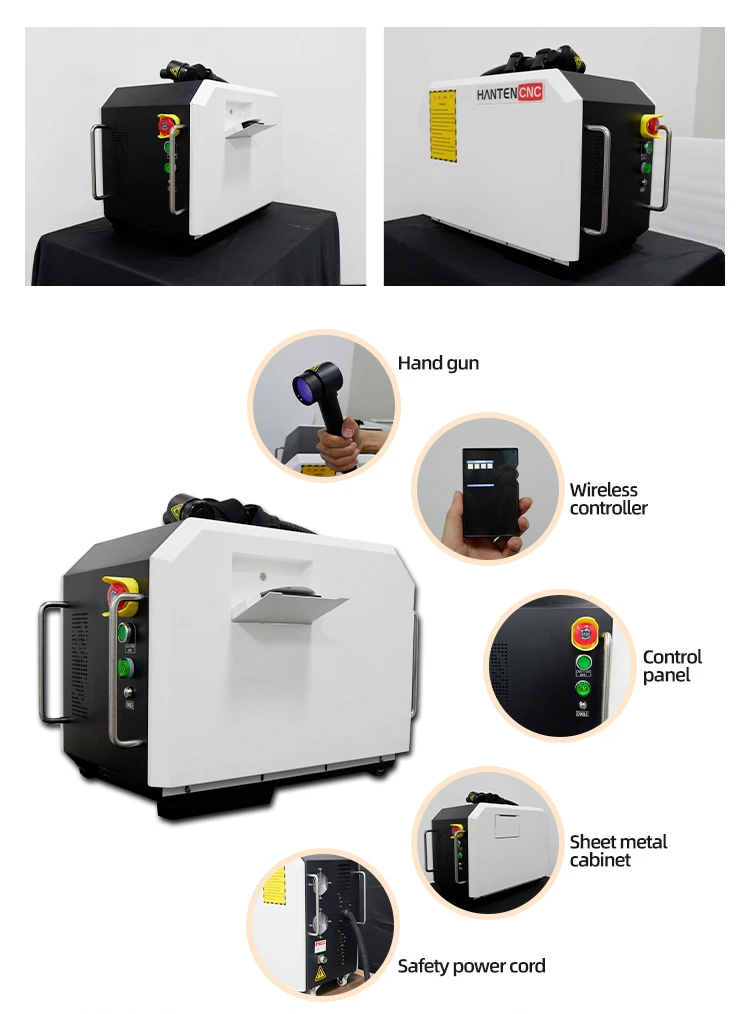 Cleaning Laser Machine Features
HANTENCNC independent design laser cleaning control card and program. Can control the laser parameters and scanning system parameters at the same time.

Can

be controlled

wirelessly

, and can achieve parameter setting and light control from a distance, and update parameters at any time

.

Support offline operation, power on can be cleaning work.
Integrated design of key and handle, easy to use.

Built-in scanning system adopts small high-speed motor and drive, the main body

is integrated

processing molding

. strong. Dustproof and stable and durable.

Can

be downloaded

in the mobile phone APP, and Apple mobile phone connection, through the phone debugging parameters

.

Multiple mode selection, support multiple languages.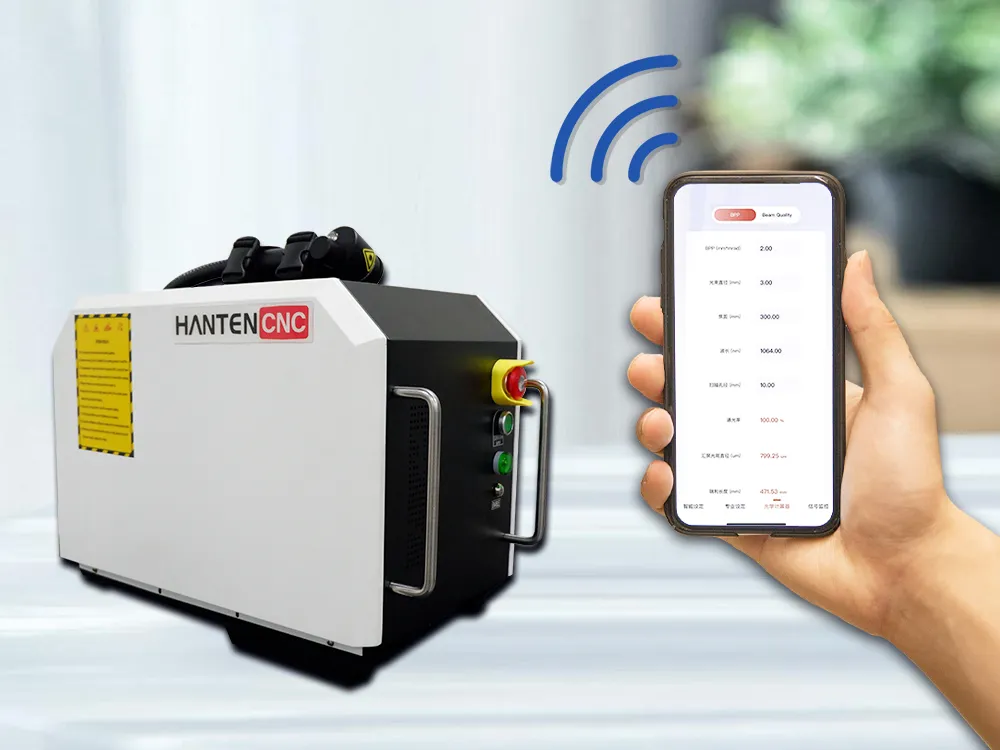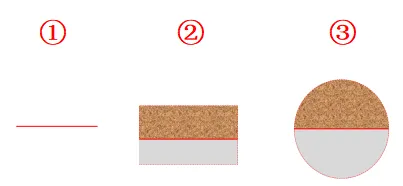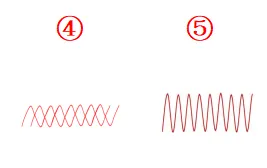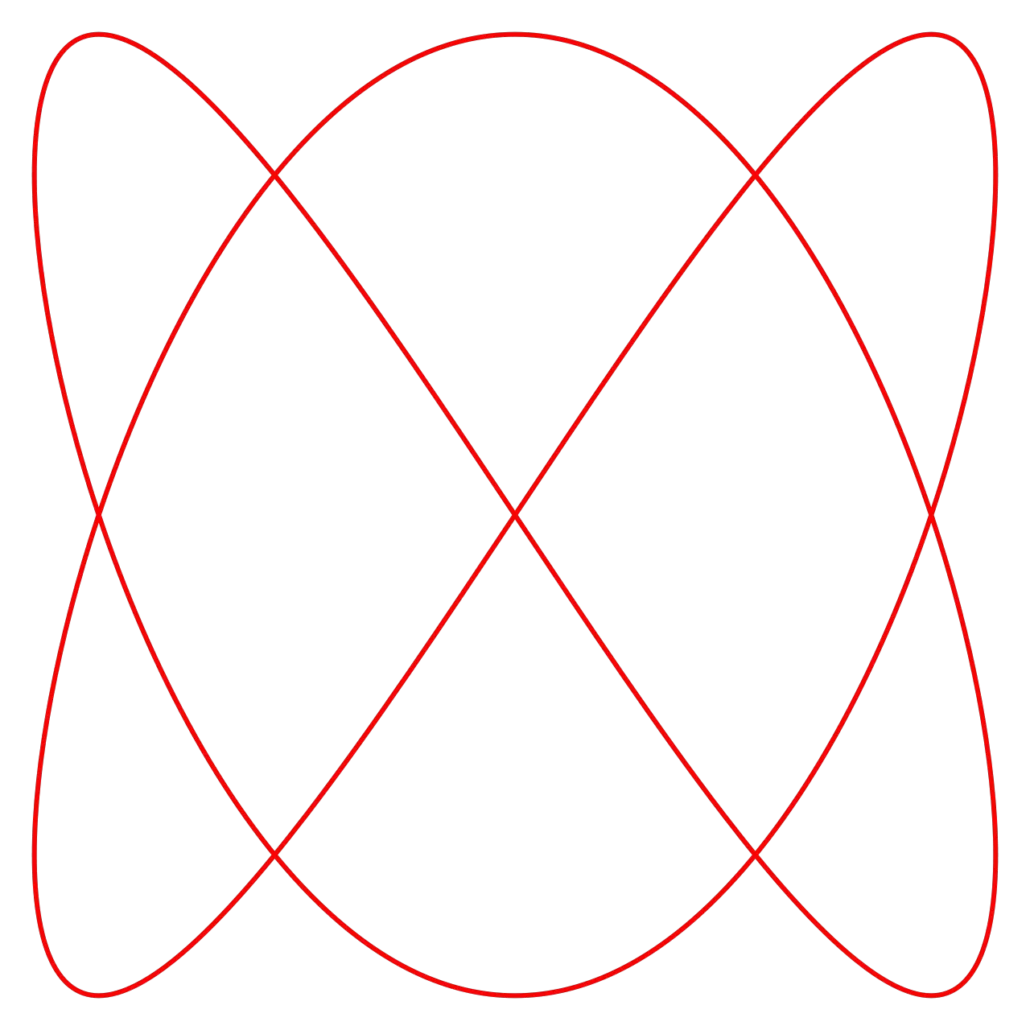 Portable Laser Rust Removal Tool Advantages
HANTENCNC independent research and development of mini small trolley laser cleaning machine. The chassis with black and white, more high-end atmosphere, handle using aluminium alloy material feel good. Front and rear respectively 2 handles.Lightweight at the same time solid and durable and convenient to move. Handle without angular design to make the handheld more energy-saving.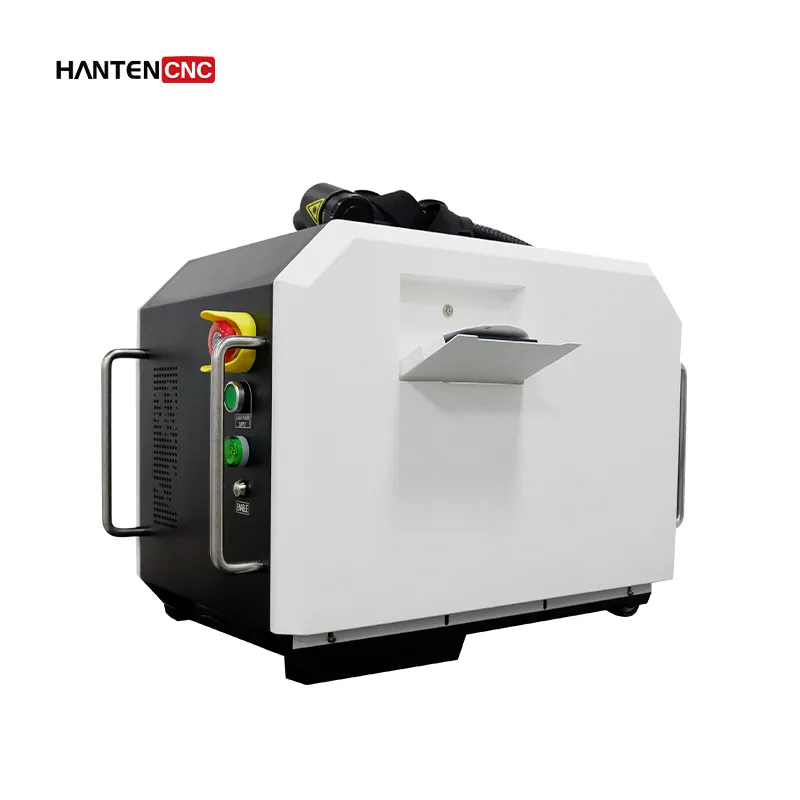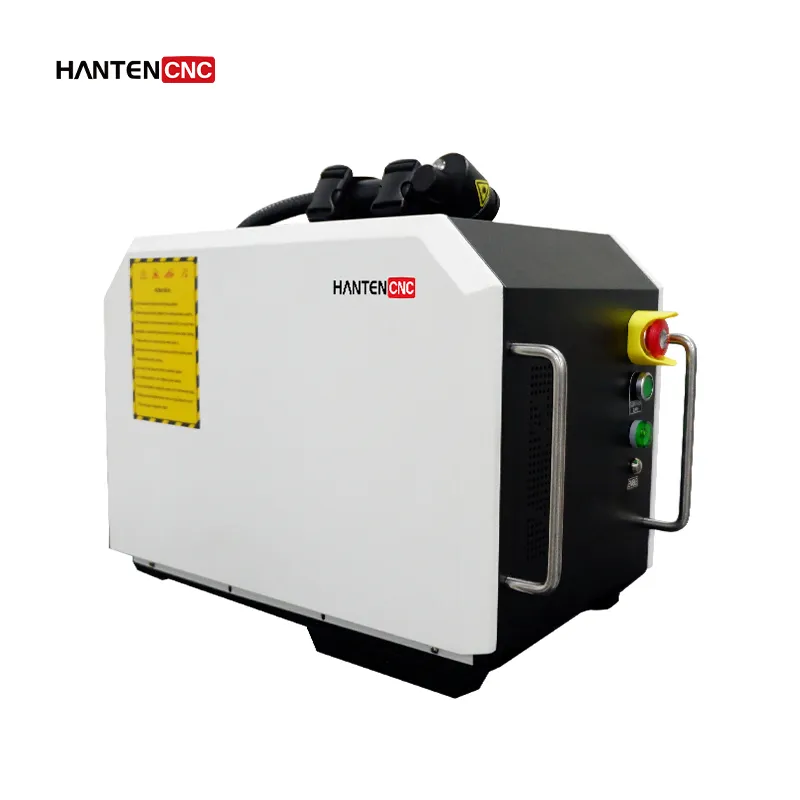 Thickened aluminium alloy trolley design with directional wheels at the bottom of the case. portable and trolley for dual use, making the small mini pulse laser cleaner more portable and convenient.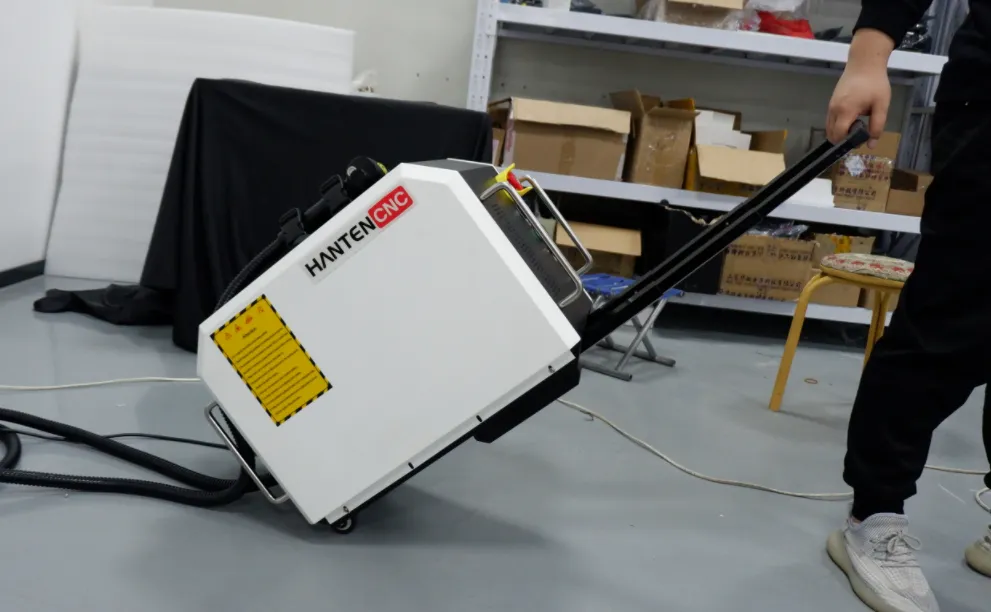 HANTENCNC's JPT pulsed laser cleaning head: weighing only 620g (without armouring), it can be hand-held for long periods of time.Patented red light assisted focusing technology. Which allows the focus position to be adjusted to the different field mirrors.The patented red light assisted focusing technology allows the focus to be adjusted to the different field mirrors. The laser collimation output (4mm spot) facilitates long hand-held operation .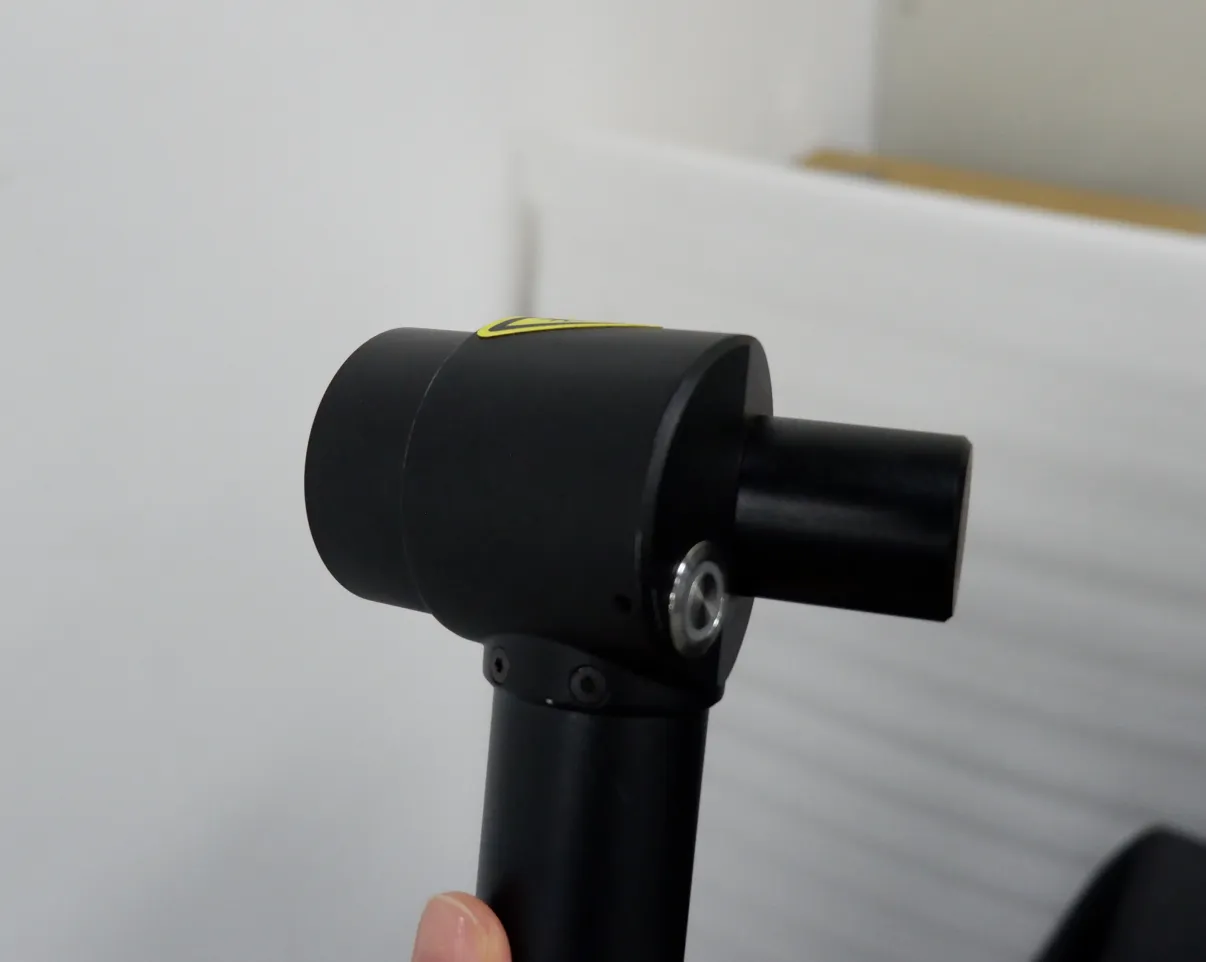 Portable Laser Cleaning Machine Parameters
Model
HTC100
Laser Power
100W
Pulse frequency range
1-4000khz
Maximum pulse energy
1.5mj
Pulse Width
2-500ns
Delivery cable length
Factory 5 meters
Laser wavelength
1070nm
Cleaning head
Own brand
Control System
Own brand
Scan line diameter

160mm/210mm/254mm/330mm/420mm

(

Optional

)
Cooling system
Air cooling
Beam diameter
4.0±0.5mm
Anti-reflective protection
Have
Power Requirements
220V
Ambient temperature range
10-40 Degrees
Machine size
740*380*530mm
Net weight
33kg
Laser Rust Cleaning Machine Advantages
HANTENCNC self-developed trolley case small pulse laser cleaning machine. Has many advantages such as portable and lightweight. Flexible and adjustable parameters, wireless control. etc.. It can

efficiently

remove rust. stains. Oil and plating from the surface of the workpiece. Which can

be applied

to mechanical processing. Restoration of cultural relics. mould cleaning. Food processing. Electronic circuits and other industries.

Using the characteristics of precise positioning to meet the processing of a variety of shape workpieces

. And Achieve efficient cleaning effect.

This model with Jephte MOPA cleaning type pulsed fibre laser source. With pulse width and frequency independently adjustable features. In the case of pulse width and frequency changes can still maintain a high and stable peak power output, to adapt to a wider range of cleaning scenarios.
The HANTENCNC . Self-developed trolley case small pulse laser cleaning machine.Control system. Uses Jephte's self-designed laser cleaning control card. And program.which can simultaneously control the laser parameters and. Scanning system parameters, and is equipped with a handheld wireless control card . The control card is connected to the cleaning machine by wireless means and can achieve remote control of the scanning shape. Scanning length, laser output power, frequency, pulse width and other parameters. The power supply interface is a standard three-plug type 220V AC power supply, which can be powered on for cleaning.
HANTENCNC self-developed trolley case small pulse laser cleaning machine. For portable integrated design. Super integrated injection molding case, Cushion design, anti-crush anti-drop wear-resistant. Trolley case, can be carried by high-speed rail and airline check-in.

Main Industry Applications of Laser Cleaning Market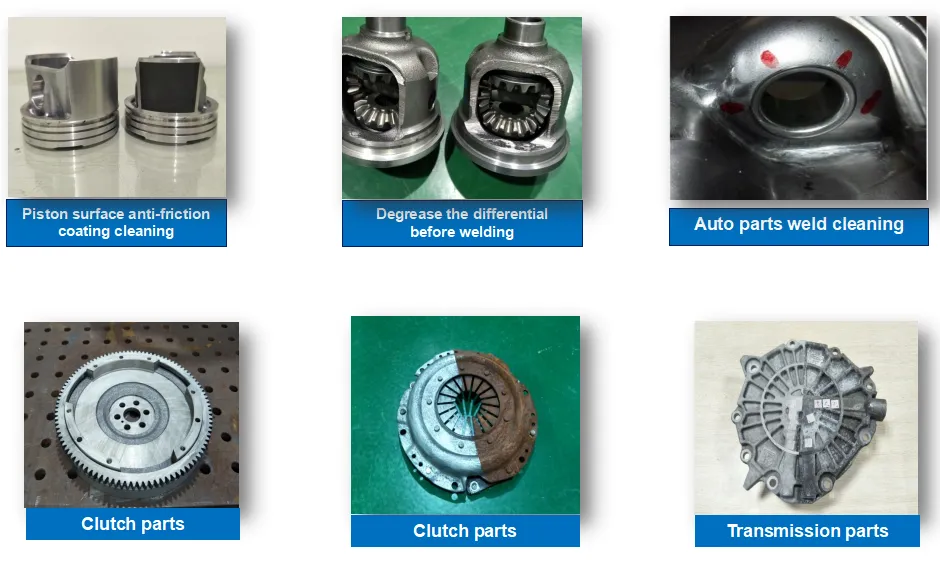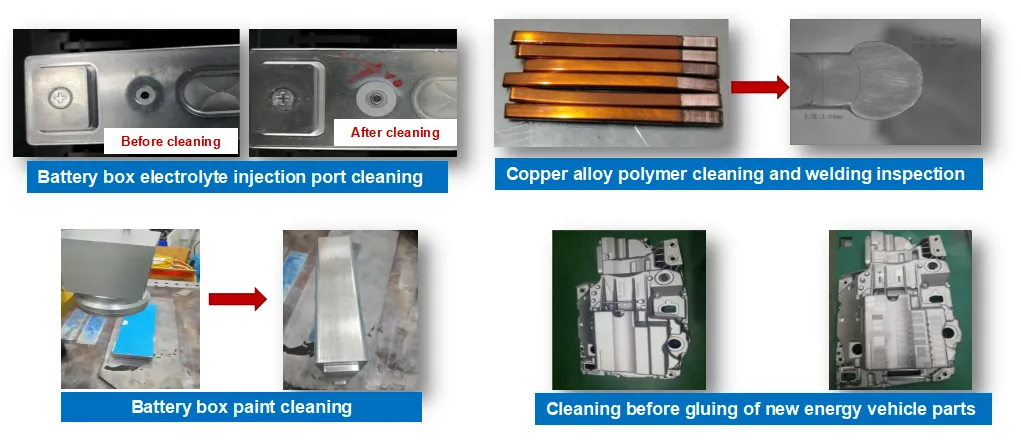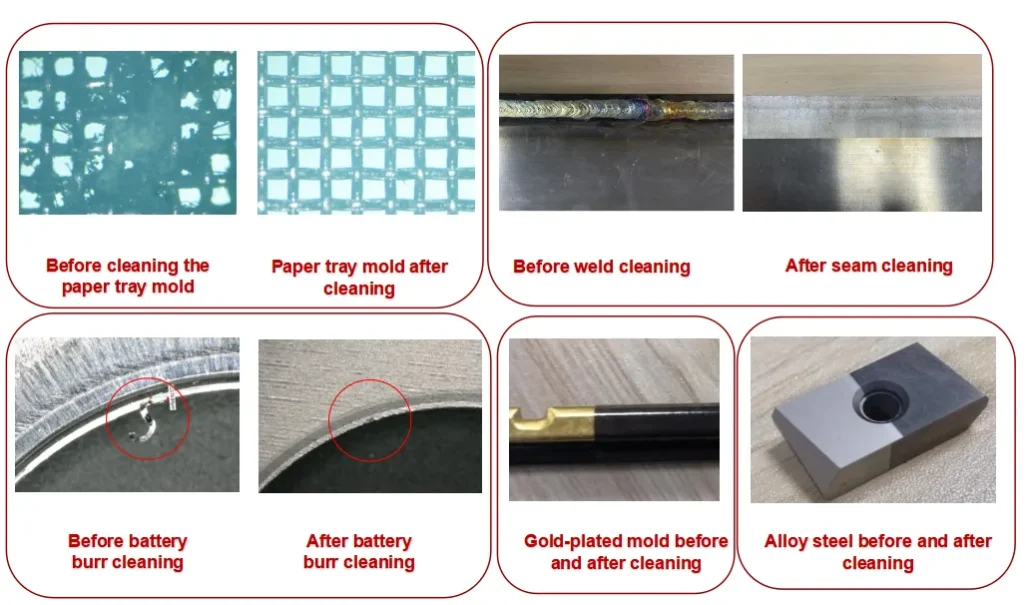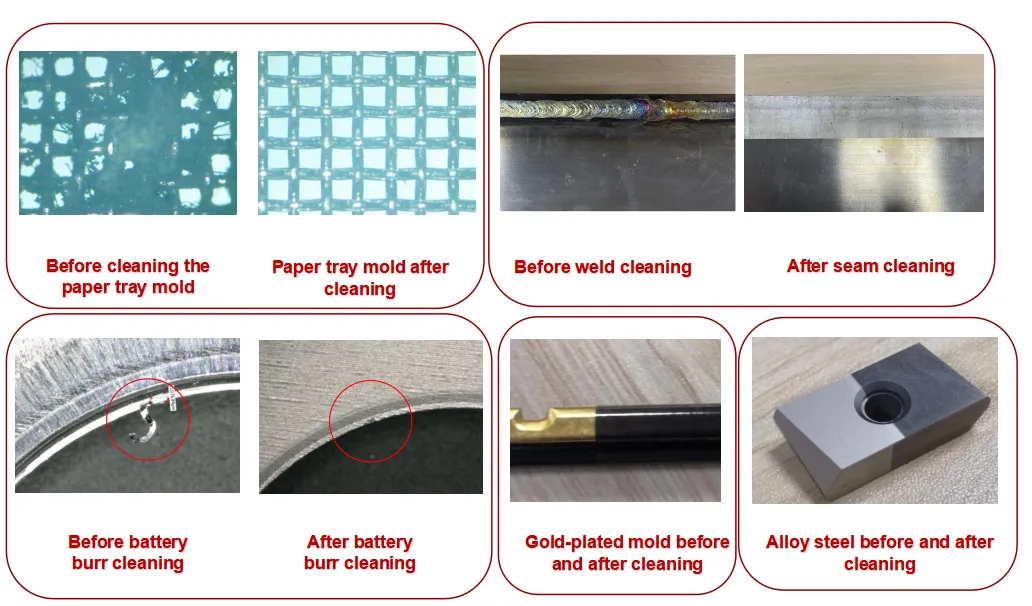 Practical Examples and Customer Inspections