Fiber Laser Marking Machine Details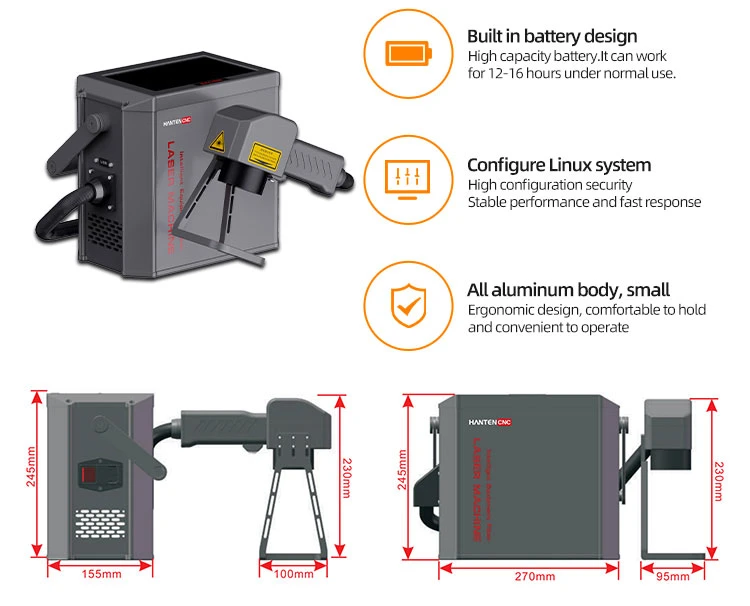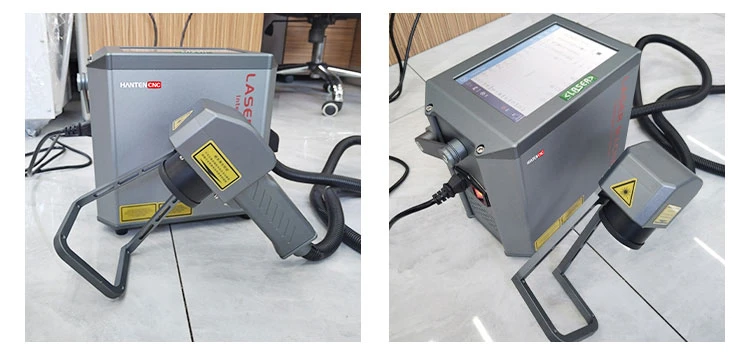 Handheld Laser Engraver Machine Parameters
project
Parameter table
F-20W
F-30W
Overall characteristics
Material of complete machine
Sand blasting oxidation all aluminum structure
Laser
The service life of fiber laser generator is more than 100000 hours
Laser wavelength
1064nm
Actual output power
≥20W
≥30W
Marking speed
≤12000mm/s
master control
8 inch touch controller
Cooling system
Normal temperature air cooling
Minimum line width
0.0012mm
Positioning mode
Red light indication
Number of lines of engraved characters
Within the marking range
Any number will do
Production line speed
0 ~ 130m / min (depending on the material)
Multilingualism
English, French, Spanish, German, Chinese, Russian, Arabic, etc
Advantages Of Handheld Laser Engraving Machine
24V lithium battery (optional), 12AH large-capacity battery, it can work for 12-16 hours under normal use.
Portable design, one machine with multiple functions
It adopts portable + desktop (optional) + flight design (optional). Can be used in factories or outdoors, suitable for a variety of working environments.
Configure the linux system
It adopts 8-core processor and configures with high security level. The performance of the machine is stable, the response speed is fast, and the marking efficiency is high.
All-aluminum body, precise and compact
The weight of the whole machine is 8.25kg, and its marking head is only 1.25kg. Handheld operation. Ergonomic design. Easy to operate and suitable for long hours of work.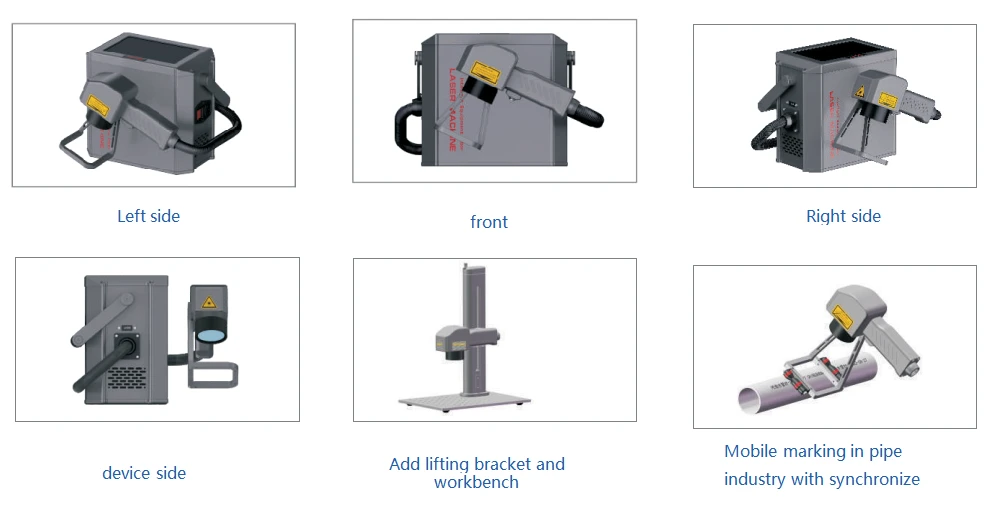 Fiber Laser Marking Machine Application Field
Laser marker machine has the characteristics of high precision and low cost, and is more and more used in automatic production. It is widely used in hardware tools, industrial bearings, clock instruments, communication equipment. It can also be used in many fields such as auto parts, home appliances, wires and cables, food packaging, DIY jewelry, etc., as well as mass production lines.
Actual Cases and Customer Inspections