Desktop Laser Marking Machine Parameter
| Description | Parameter |
| --- | --- |
| Marking Area | 100*100mm-300*300mm(Option) |
| Working voltage | 0.5KW/AC220V/50Hz(option) |
| Lifting pillar | 500mm(customize) |
| Cooling system | Air Cooling |
| Working environment | 0~35°C humidity≤90% |
| Minimum character | 0.1mm |
| Minimum line width | 0.01mm |
| Repeatability accuracy | 0.003mm |
| Resolution | 0.001mm |
| Marking speed | 0-7000mm/s |
| Laser modulation frequency | 20kHz~80kHz |
| Output laser power | 30W/50W |
| Laser wavelength | 1064nm |
| Laser source | Fiber laser source |
Desktop Fiber Laser Marking Machine Features
The standard laser marker machine in marking can only make a single mark, low efficiency. HANTENCNC CCD visual positioning desktop marking laser machine to mark several workpieces. 1 CCD visual positioning laser marking equipment instead of 6-7 ordinary marking laser machines.
CCD visual positioning laser marking equipment can be equipped with sliding table use and pipelining marking. Multiple products can be identified and marked at one time, which improves marking efficiency and saves labor costs.
CCD visual positioning laser marker using CCD camera marking. Through the use of external camera real-time shooting. We capture product features and solve the problem of poor positioning, and slow speed. HANTENCNC CCD visual system can be free feeding, accurate positioning, and high marking precision. It can improve marking efficiency.
A visual positioning laser marking machine ≈6-7 sets of standard laser marking machine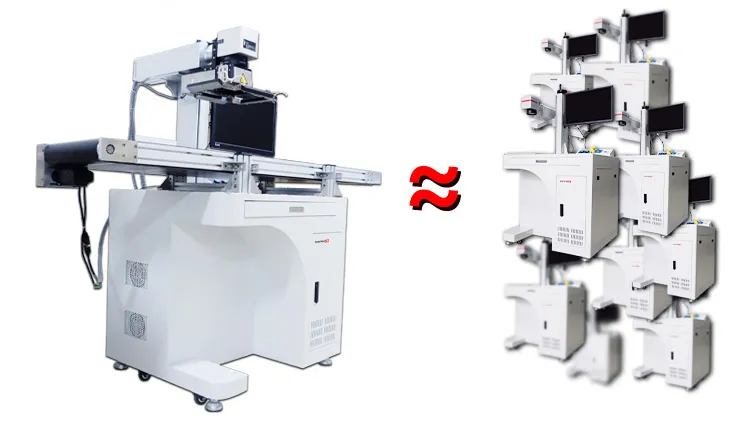 Standard machine single marking, needs manual feeding, positioning marking, and blanking.
Hanteng laser CCD visual positioning laser marking equipment at a time. and do not need accurate positioning. As long as the front faces up, the scope of the scope can be placed at will.
Desktop Laser Marking Machine Details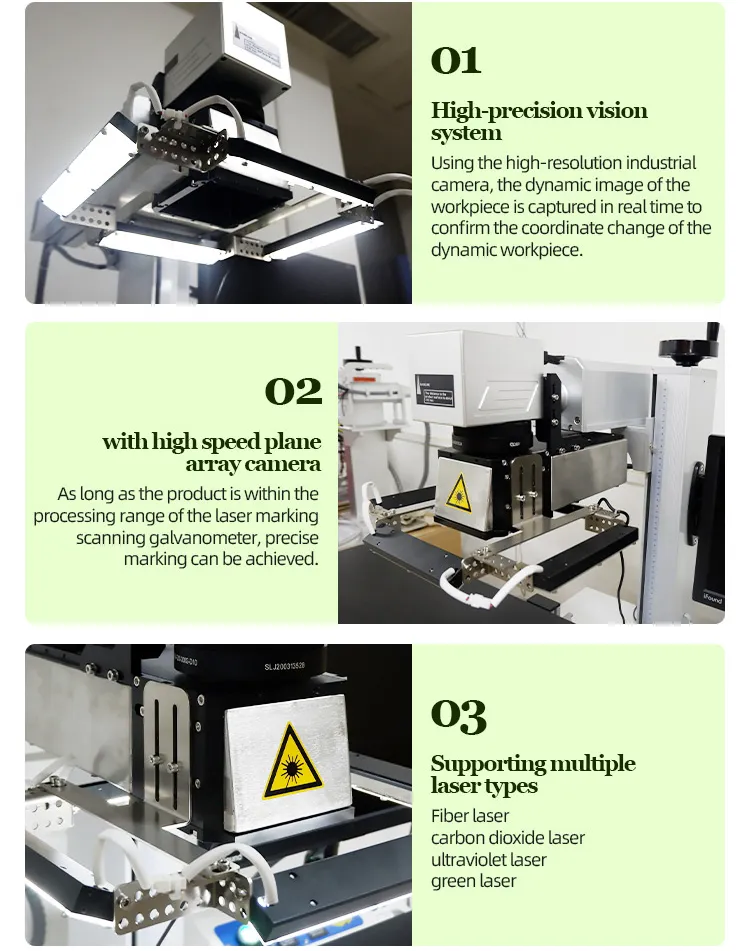 Actual Case And Customer Factory Inspection