3D Fiber Laser Marking Machine Parameters
| Machine model | HTF-100 |
| --- | --- |
| LASER POWER | 100W |
| MARKING area | 100*100MM-200*200MM(OPTION) |
| Working voltage | 220V/50Hz(option) |
| Cooling system | Air Cooling |
| Working environment | 0~35°C humidity≤90% |
| Minimum character | 0.1mm |
| Repeatability accuracy | 0.003mm |
| Laser wavelength | 1064nm |
| Galvanometer | 3D FEELTEK FR10-F |
| Warranty | 1 years for whole machine |
| After Warranty Service | Video technical support, Online support |
| Application | Marking on metal, copper, stainless steel, hard plastic, animal ear tags, metal tags, dog tags and so on |
| Machine's advantages | Easy to use, not need too large space |
| Gross weight | 260kg |
| Packaging size | 1290*860*1800mm |
Fiber Laser Metal Marking Machine Features
1. Realize Easy Marking of Irregular Surfaces
The galvanometer uses 3D FEELTEK F10.F10 dynamic focus control technology. It changes the limitations of traditional marking. It can mark irregular objects such as curved surfaces. The dynamic axis cooperates with the X-axis, Y-axis, and scanning head to realize layered relief deep carving and texture depiction easily.
2. User-friendly Dynamic Focus System
The self-developed LenMark software is specially used for dynamic focus control. The 3D interface is easy to operate and can directly import 3D images and edit drawings. The fiber laser metal marking machine can quickly realize fine processing.
3. Switchable Language Interface
Menu-guided without restarting the software. It can realize the switching function of the language interface of different countries.
More Details About The Equipment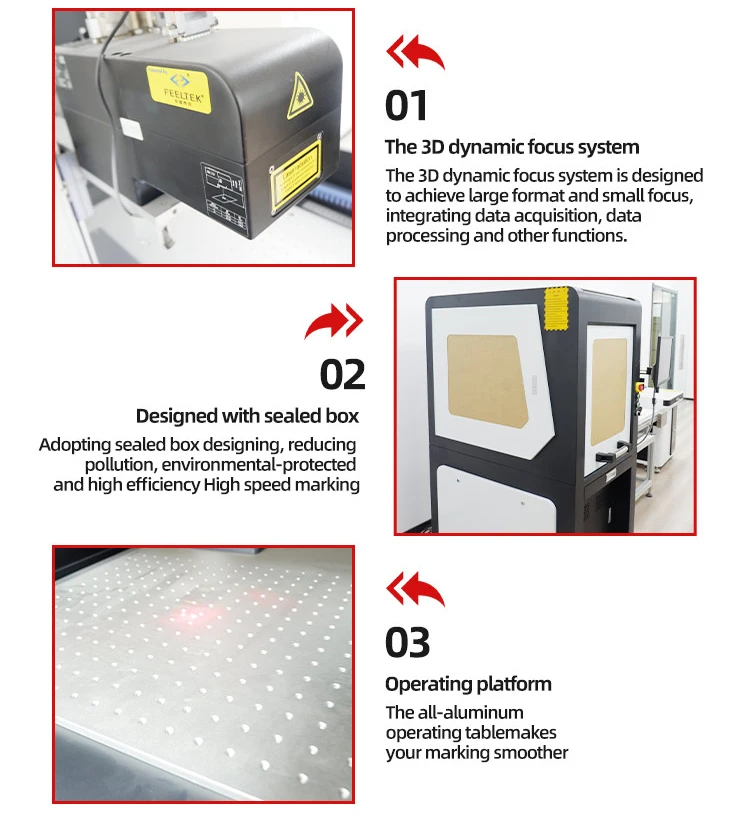 The Difference Between 2D Marking And 3D Marking

HANTENCNC 3D laser marking equipment can mark products of different heights at once.
2D marking can only mark one level for products of different heights. If you mark other positions, you must move the focal length twice.

The marking effect of 3D laser marker machine is formed at one time.
2D laser marker curved surface with deep color marking in the middle and light on both sides.
Application of 3D Fiber Laser Marking Machine
This 3D fiber laser marking machine can accurately and efficiently mark complex curved surface workpieces. It can process plastic, stainless steel, and aluminum-magnesium alloy. It can also process aluminum oxide, copper, nickel plating, iron, and other materials. It is "Marking Master." It can be engraved on three piles of three-dimensional workpieces such as lamps, molds, 3C electronics, and craft gifts. The 3D relief laser marking machine can import pre-designed 3D models. With specific parameters set, the machine can achieve precise relief carving of 3D graphics.
Machine Accessories We Provide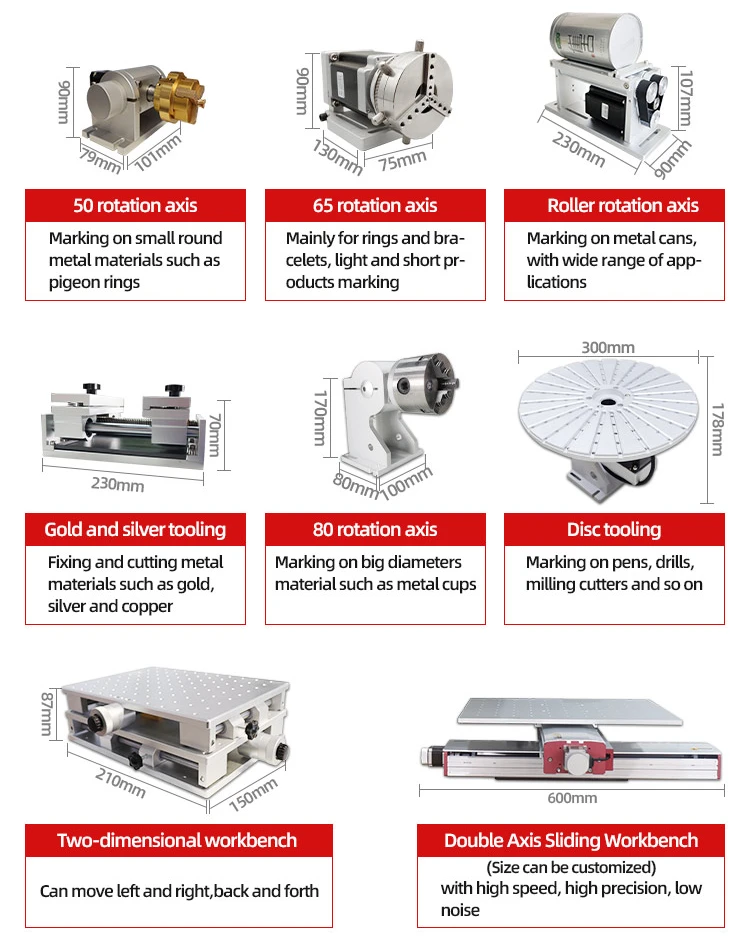 Actual Cases And Customer Inspections