Mould Laser Welding Machine Display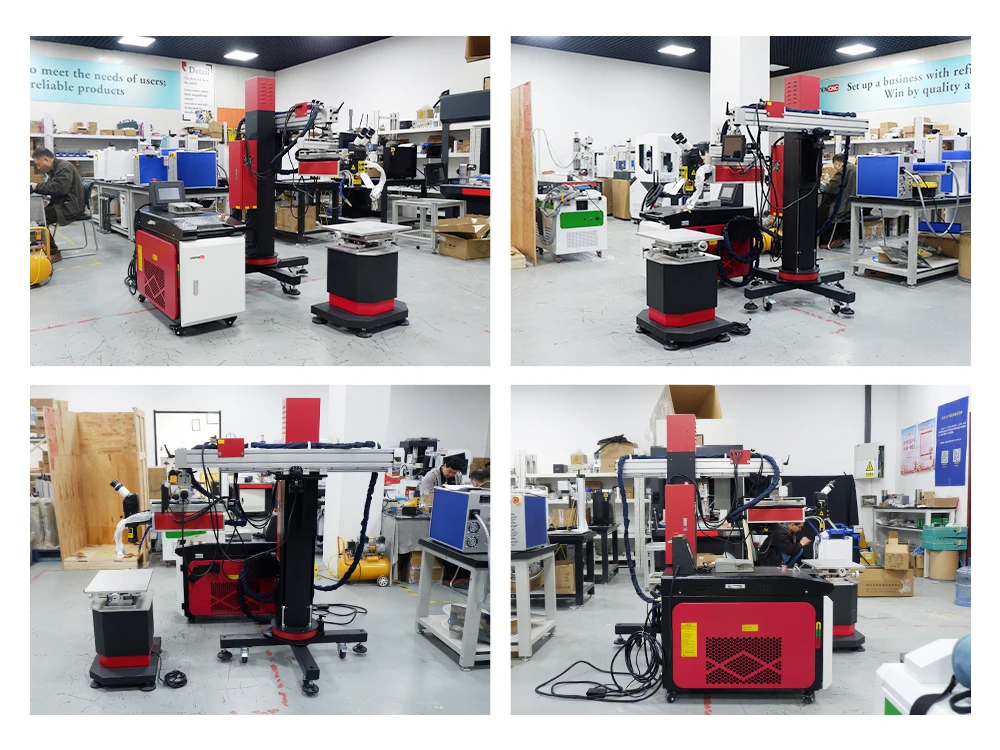 Mold Laser Welding Machine Parameter
| Machine power | 1000W/1500W |
| --- | --- |
| Laser wavelength | 1080±10 nm |
| Motion mode | Continuous, pulsed |
| Maximum adjustment frequency | 25 Hz (customizable) |
| Laser welding depth | ≤3.0 mm (depending on material) |
| Fiber core diameter | 50 μm |
| Fiber wire length | >8 m |
| Beam splitting mode | Precision energy spectroscopy or high-speed time spectroscopy |
| Light output mode | QCW/PWM/CW |
| Aiming and positioning system | Microscope |
| Rated power | 5.6 KW |
| Cooling method | Water cooling (dual temperature and dual control) |
| Electricity requirement | 220V±10% 50Hz/40A |
| Main machine size/net weight | L 960×W 550×H 680mm / 120 KG |
| Table size/net weight | L 610×W 410×H 580mm / 55 KG |
| Boom size/net weight | L 1600×W 1070×H 1680mm / 120 KG |
Microscope Operating System
The microscope monitors the operation and adopts the most advanced automatic shading system to eliminate eye irritation during working hours.

Get a Free Quote
CCD system (camera system) is used for monitoring. In addition to the operator can observe from the microscope, non-operators can also watch the whole welding process through the display screen of the camera monitoring system.

Get a Free Quote
Imported Ceramic Concentrator
HANTENCNC develops and produces mold laser welding machines that use imported ceramic concentrators. It is corrosion-resistant, high-temperature-resistant, with a cavity life of (8-10) years and a xenon lamp life of more than 8 million times.

Get a Free Quote
Advantages of Laser Welding Mold
High Precision: Laser welding technology can achieve very precise welding. High-precision welding can thus be performed on minute details and complex shapes of moulds. This high precision ensures weld accuracy and consistency, resulting in high-quality welded joints.
Low Heat Input: The heat input during laser welding is relatively low. This means that when welding the mold, the heat affected zone is smaller. In contrast, traditional welding methods may introduce more heat. This leads to an increased risk of mold deformation or distortion. The low heat input of laser welding helps reduce these risks, keeping the shape and dimension of the mold stable.
Fine Control: Laser welding technology allows highly precise control of welding parameters. Including laser power, welding speed and focal length etc. Optimized welding results can be achieved by fine-tuning these parameters to meet specific mold-making requirements.
Non-contact: Laser welding is a non-contact welding method. The laser welding process does not require direct contact with the mold surface. This eliminates problems associated with mechanical stress and wear that can occur with traditional welding methods. Contactless welding also avoids wear and contamination due to friction between the welding tip and the mold surface.
Fast Speed: Laser welding is an efficient welding method. It can achieve fast welding speed. This is important for the mass production of molds or manufacturing processes that require high throughput. In contrast, traditional hand soldering can take longer.
Actual Case And Customer Factory Inspection