200W Pulse Laser Cleaning Machine Parameters
Operating environment

Model
HTC200
Supply voltage
Single phase220V± 10% 、50/60Hz AC
Power consumption
≤1500W
Working environment
temperature
5℃~40℃
Working environment humidity
≤80%

Optical parameters

Average laser power
≥200W
Power instability
<5%
Laser Working Mode
Pulse
Pulse width
13-500ns
Maximum monopulse
energy
2mJ
Power regulation range (%)
0- 100( Gradient Adjustable)
Repeat frequency (kHz)
1-3000 (Gradient Adjustable )
Fiber length
5m
Cooling mode
Air cooling

Cleaning Head Parameters

Cleaning mode
8 types
Scanning frequency
The maximum is not less than 300Hz
Field mirror focal length
(mm)
210mm ( Optional 160mm/254mm/330mm/420mm)
Depth of focus
About 5 mm

Mechanical parameters

Machine size (Length,
width and height)
About 617mm*469mm*291mm
Size after packing (Length,
width and height)
About 950mm*580mm*500mm
Machine Weight
About 30Kg
Weight after packing
About 50Kg
Cleaning head weight
<0.75Kg
Mode of operation
Handheld
Features of Laser Metal Cleaning Machine
HantenCNC laser cleaner machine belongs to non-contact cleaning. The cleaning process will not damage the part matrix.
Precise cleaning is possible. The position and size of cleaning can be selected.
No chemical cleaning solution is required during the cleaning process. The whole process is pollution-free and consumable free. It is a safe and environmentally friendly way to clean.
The machine is simple to operate and easy to use.
The ergonomic design greatly reduces the labor intensity of the operation.
High efficiency, save time, reduce labor costs.
HantenCNC laser cleaning systems are stable and require little maintenance.
The machine is designed with vents to dissipate heat better during operation.
Handheld Laser Cleaner Details
The machine adopts a small car box design, equipped with universal wheels, easy to move. It uses a hand-held cleaning head and weighs less than 0.75Kg. This pulse laser cleaning machine is ergonomically designed. Even when working long hours, the operator is not easily fatigued. The overall size of this handheld laser cleaner is 617mm*469mm*291mm. The weight of the machine is about 30Kg, small size, easy to carry.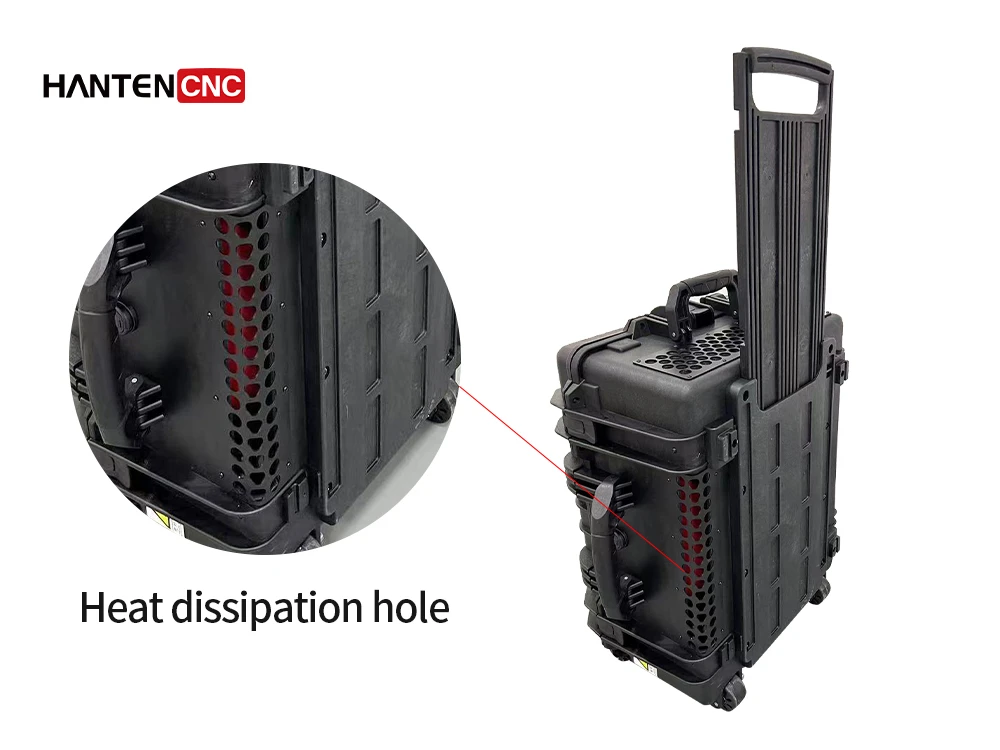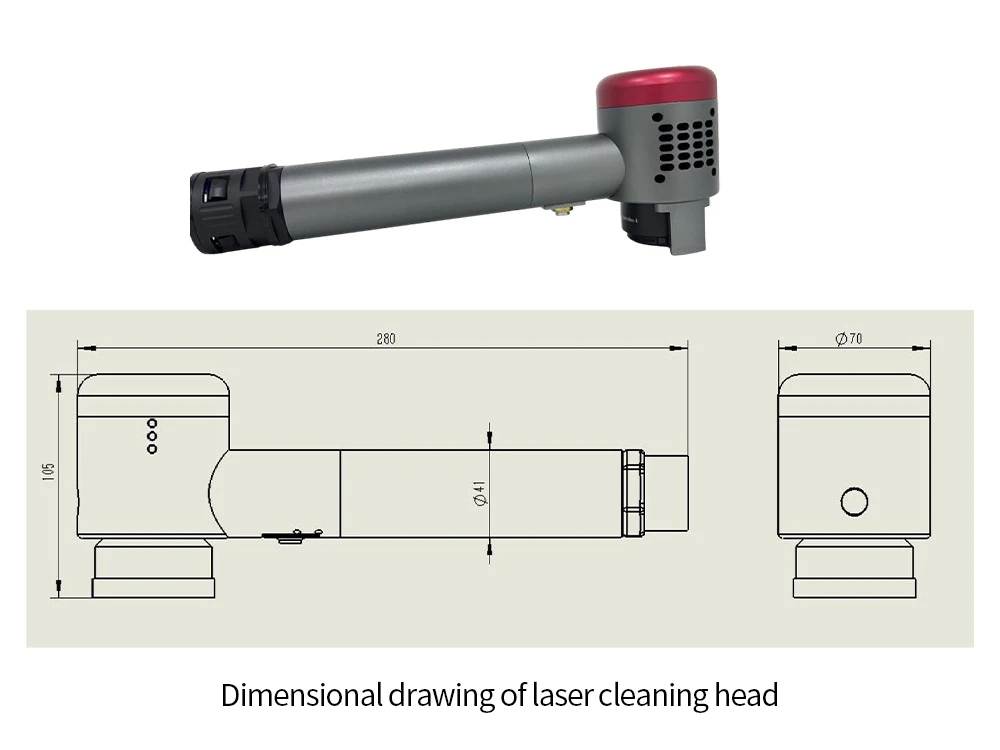 Laser Cleaning vs Traditional Cleaning
Traditional cleaning methods include mechanical, chemical, ultrasonic and so on. These methods are widely used. However, there will be some limitations under the cleaning strength and environmental protection requirements. For example, mechanical cleaning methods cannot meet cleaning requirements. Chemical cleaning will lead to environmental pollution and does not meet environmental protection requirements. Ultrasound also has no effect on submicron dirt particles.
Laser cleaning is safer and more environmentally friendly. Cleaning will not damage the substrate, fine precision, adjustable cleaning size, can be fixed cleaning. Laser cleaning machine installation, easy operation, high cleaning efficiency. Even the corners of the seams can be cleaned with a laser.
The operation interface provides 8 cleaning modes: straight line mode, rectangle 1 mode, rectangle 2 mode, circular mode, sine mode, spiral mode, free mode, and circular ring.
Language mode currently supports Chinese, Traditional Chinese, English, Russian, Japanese, Spanish, German, Korean, French, and other 9 kinds.

Actual Cases And Customer Inspections