Laser Cleaning Machine Display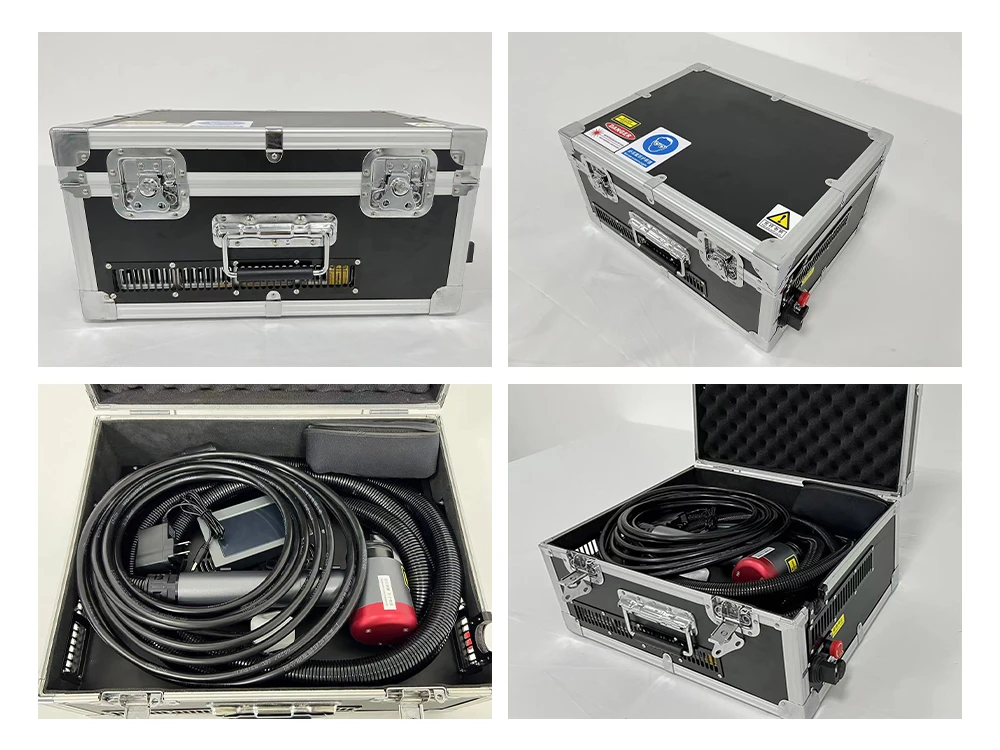 Laser Cleaning Machine Parameters
Operating environment

Model
HTC200
Supply voltage
Standard AC/DC 220V± 10% 、50/60Hz
Power consumption
≤1500W
Working environment temperature
5℃~40℃
Working environment
humidity
≤80%

Optical parameters

Average laser power
≥200W
Power instability
<5%
Laser Working Mode
Pulse
Pulse width
13-500ns
Maximum monopulse
energy
2mJ
Power regulation range (%)
0- 100( Gradient Adjustable)
Repeat frequency (kHz)
1-3000 (Gradient Adjustable )
Fiber length
5m
Cooling mode
Air cooling

Cleaning Head Parameters

Cleaning mode
8 types
Scanning speed
Max 12 m/s
Field mirror focal length
(mm)
210mm ( Optional 160mm/254mm/330mm/420mm)
Depth of focus
About 5 mm

Mechanical parameters

Machine size (Length,
width and height)
About 450mm*370mm*225mm
Machine Weight
About 18 Kg
Cleaning head weight
<0.75Kg
Mode of operation
Handheld
Pulse Laser Cleaning Machine Details
Suitcase style pulsed laser cleaner. Cleaning head weight < 0.75Kg. Hand-held design, suitable for long-term cleaning work. The main unit size (length, width and height) is about 450mm*370mm*225mm. The weight of the host (including the cleaning head) is about 18Kg. Small size, easy to move and carry.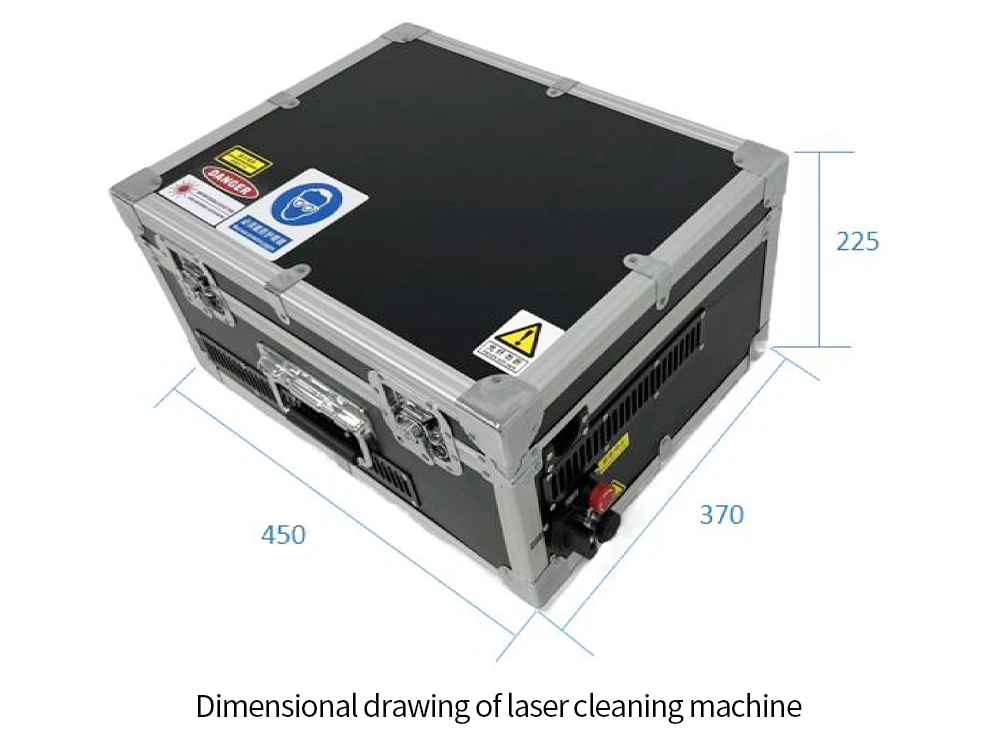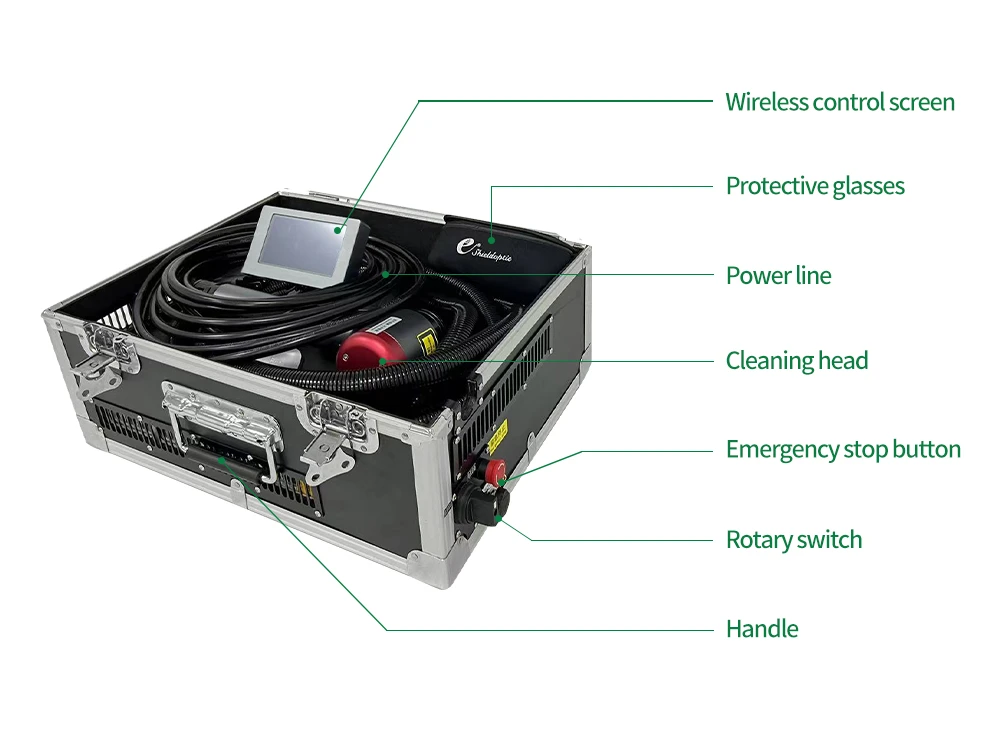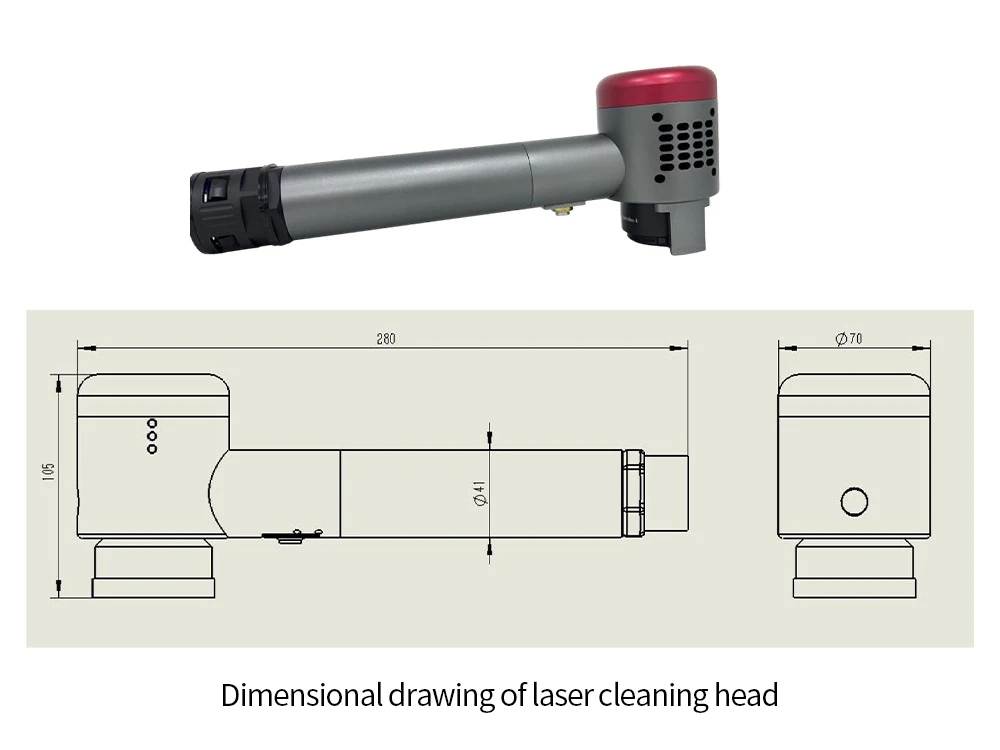 The operation interface provides 8 cleaning modes: straight line mode, rectangle 1 mode, rectangle 2 mode, circular mode, sine mode, spiral mode, free mode and circular ring.
Language mode, currently supports Chinese, Traditional Chinese, English, Russian, Japanese, Spanish, German, Korean, French and other 9 kinds.

Application of Laser Cleaning Machine
There are many application materials for HANTENCNC laser cleaning. The following is a brief introduction to the application of our laser cleaning machine:
It can quickly remove rust and floating rust on the metal surface. and various oxides;
Remove oil, resin, glue layer, dust, graffiti, residues in production, etc.;
Treatment of oxides before and after welding. Weld cleaning;
Before and after the production of precision parts. Rust, degreasing, stain cleaning;
Mold cleaning, such as tire rubber mold, industrial mold, food mold;
Cleaning and restoration of cultural relics. rock clearing;
Wall paint graffiti treatment. Paint and oil stain cleaning.
Laser Cleaning Machine Sample Display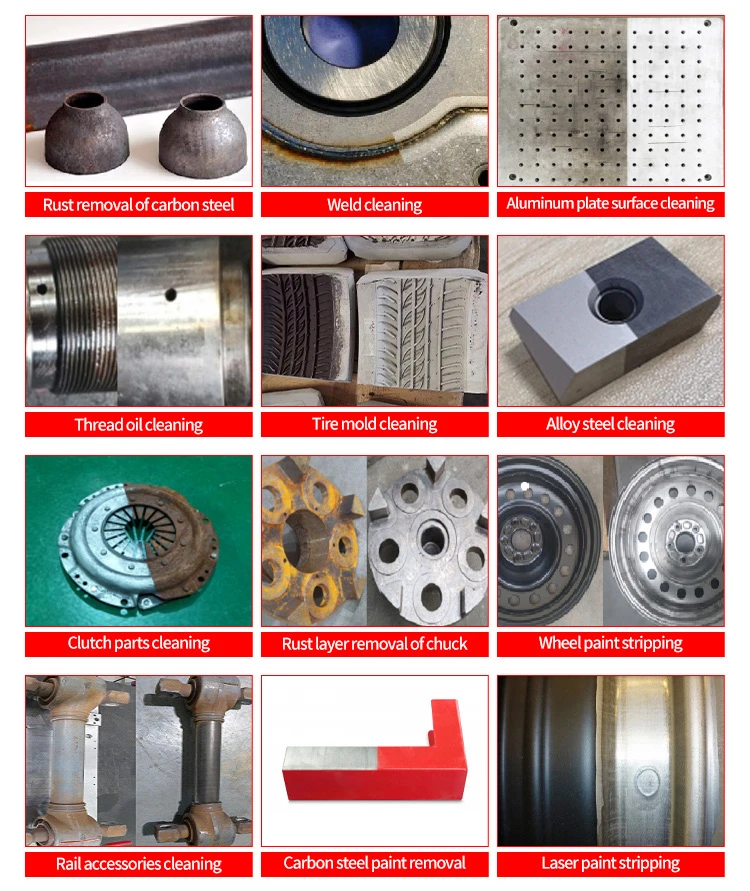 Actual Cases And Customer Inspections