2513 UV Printer Product Show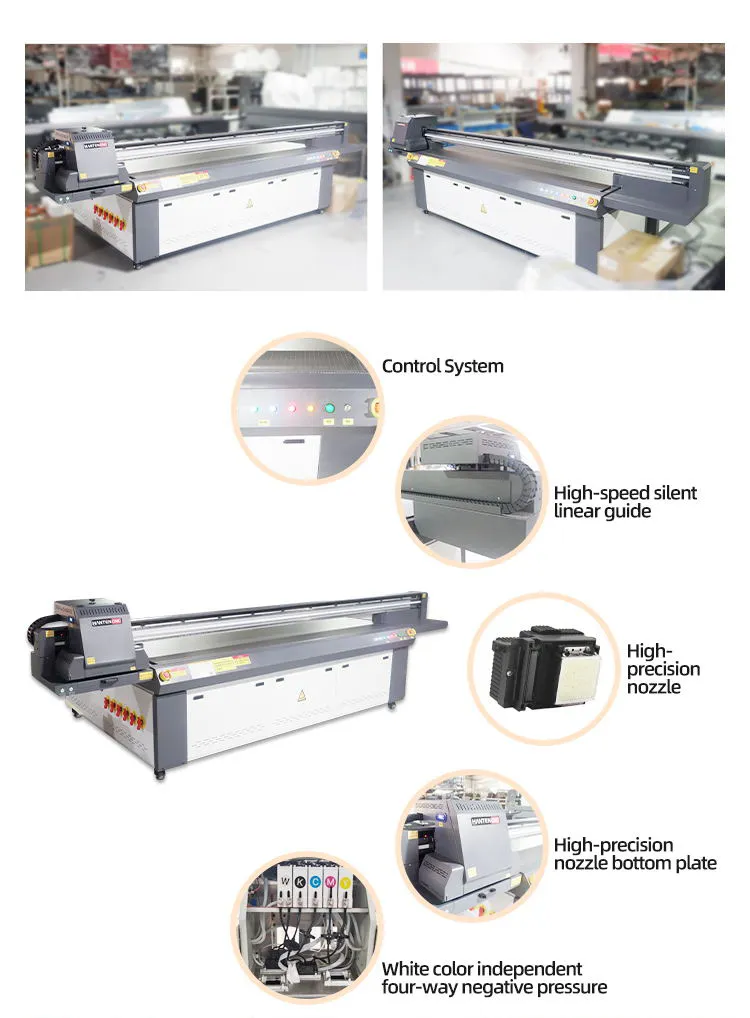 2513 Printer UV Machine Details
The 2513 machine of HANTENCNC adopts industrial Ricoh head (RICOH). It has fast printing speed, high stability and long life. This printing UV machine does not need to make a plate and complete the printing at one time. It is characterized by beautiful and rich colors, wear resistance, and simple and convenient operation. Not only that, but the printing image speed is fast and fully complies with industrial printing standards.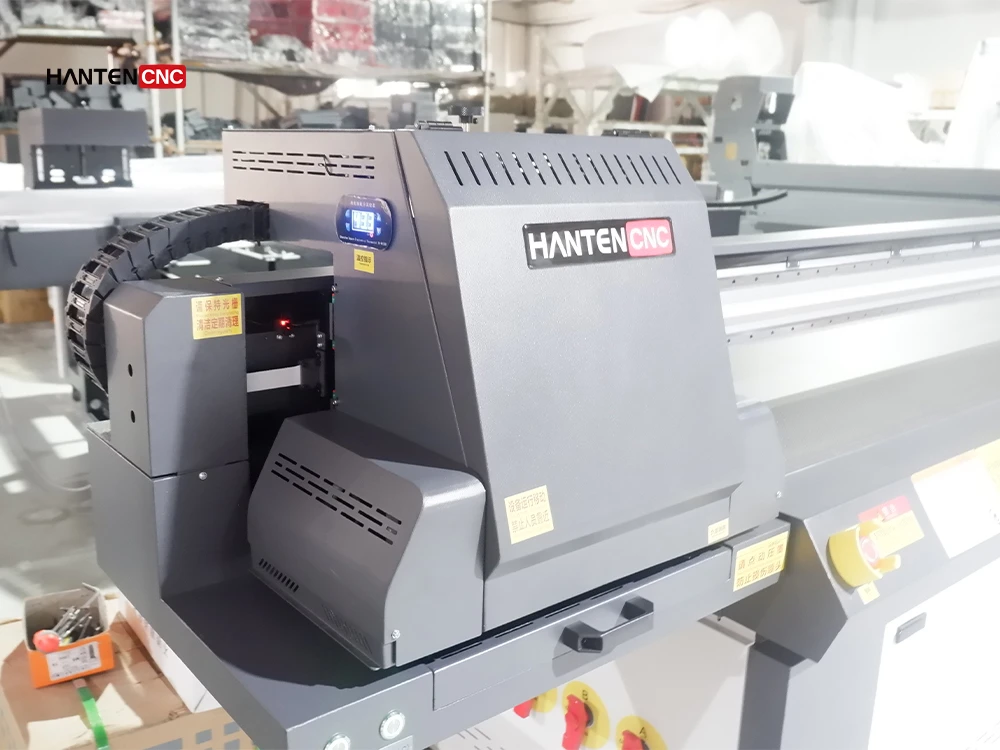 The beam is made of high-profile aluminum alloy. And the gantry is milled at one time without deformation. The direction is accurate and there is no deviation. The Korean WON original slide rail is used, which is high-precision, ultra-quiet, and high-quality.
Automatically display the remaining ink to avoid ink emptying and affect the printing effect. The temperature boost system increases the temperature of the printer head to ensure the smoothness of the ink.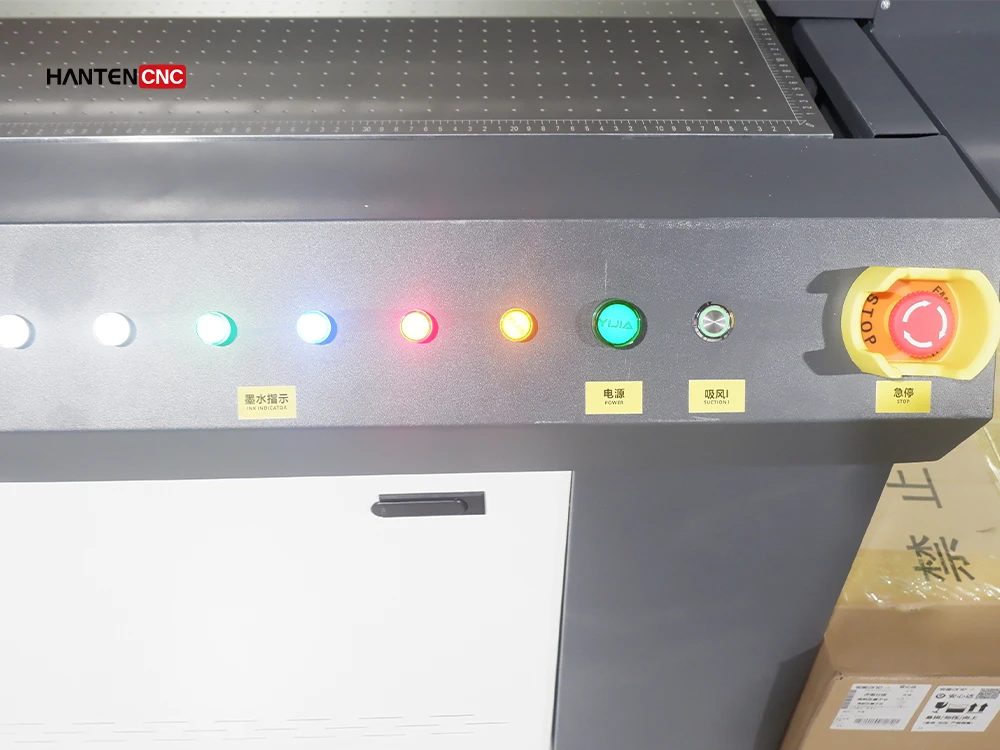 Not limited by material, not only can print directly on glass, ceramic tile, wood board. And you can print any pattern you want on any material such as metal, acrylic and sheet, and form it at one time.
This machine can do delicate, multi-color printing. Multi-color printing at one time, no need for registration. It has perfect color transition, amazing printing effect.
It can print three-dimensional products and print 3D effect.
One piece can be printed, no need for plate making, no need for film. The cost is low, and it takes into account the printing of small batches of products.
| Sprinkler technology | Drop on Demand micro-piezo inkjet method |
| --- | --- |
| Number of nozzles | 3 |
| Nozzle type | Japan Ricoh All-steel RICOH G5 |
| Print resolution | 720*1440dpi (max ) |
| Print mode | unidirectional and bidirectional |
| Printing speed | according to the quantity for the printing head |
| Beam | Using heavy-duty aluminum alloy. The gantry milling is one-time milling, the bearing is not deformed, and the direction is accurate and without deviation |
| Guide rail | Korea WON original slide rail |
| Media height detection | Automatic height measuring components imported from Japan make material positioning height more accurate |
| Motor | JMC's domestic top brand high-precision servo and closed-loop motor have strong stability and high precision |
| Ink display system | Automatically display the remaining ink level to avoid ink emptying and affect the printing effect |
| RIP software | PHOTOPRINT/MTOP |
| Image format | Tiff, Jpeg, Postscript3, EPS, PDF |
| Interface | USB high-speed transmission |
| Ink type | Anti-blocking UV ink |
| Color | 5 colors |
| Maximum media thickness | 100mm |
| Voltage | 50Hz/60Hz,220V(±10%)>35A |
| Maximum output size | 2440mm × 1220mm |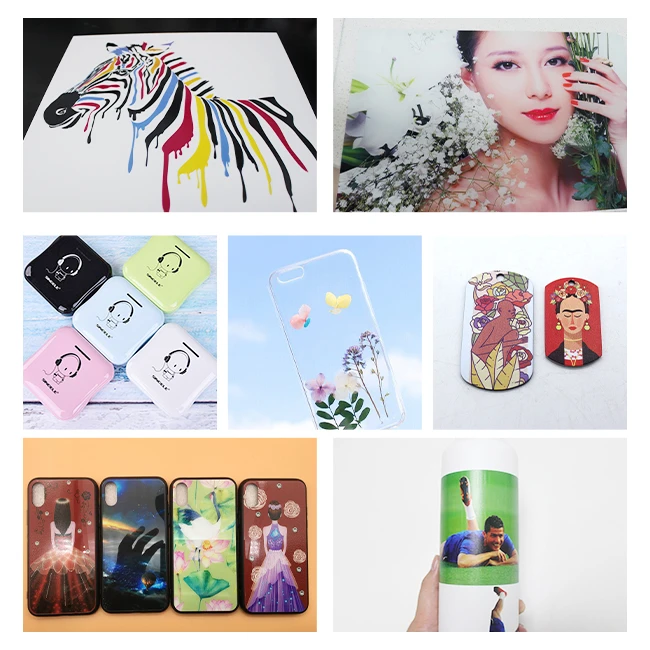 Industrial Application of UV Printer
Decoration and Decoration Industry
Such as: art glass, decorative ceramics, wooden handicrafts, and furniture, false metal wrench, ceiling, curtains and so on.
The production of hard signs in industries such as advertising, transportation. And electricity are also beneficiaries of universal uv printers. Screen printing on the adhesive film material and then sticking it on. It is not only reduce the process, but also reduce the cost.
The production of POP display boards used in on-site promotion, outlet display, museum and exhibition construction, etc. With a universal uv printer, you can directly print KT boards, acrylic boards, plexiglass boards, etc. It reduces the problems of lamination, fading, and foaming in traditional printing, and saves a lot of labor.
A large industry with a global market expected to exceed $80 billion. You can purchase a uv printer for custom printing patterns on the packaging appearance. Packaging companies that mainly use flexographic printing, screen printing and stencil printing can be customized with a universal uv printer.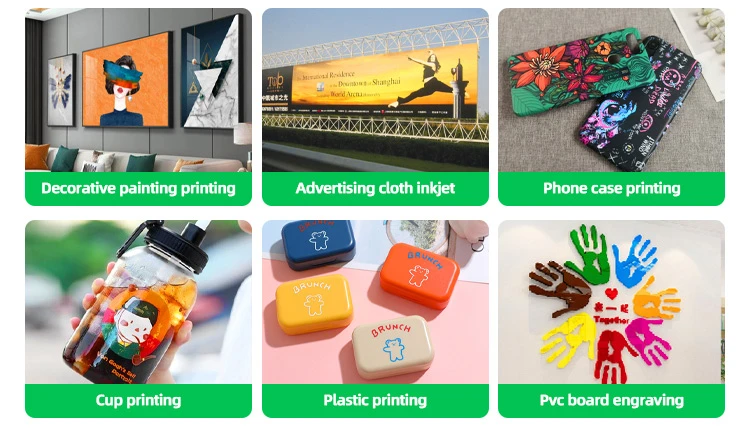 Actual Cases and Customer Inspections