CNC Fiber Laser Cutting Machine Technical Parameters
Laser source

MAX Fiber Laser Source

Laser Power

1000W/1500W

Fiber cable L

20M

Wavelength

1080nm

Beam quality

<

0.373mrad

Effective cutting range

3000mm×1500mm

Axial positioning accuracy of the table

≤±0.02500mm/m

Table repeatability accuracy

≤±0.02mm/m

Cutting speed

≤30m/min depending on the material

Workbench maximum load

1800KG

Power rating parameters

Three-phase AC 380V 50Hz

Equipment power consumption

25-40KW

Overall power protection level

IP54
Fiber Laser CNC Cutting Machine Introduction
The whole sheet metal laser cutting machine adopts a fully enclosed outer protection design. It can effectively protect the work safety of equipment operators.
The laser cutting head is equipped with a fully automatic focusing function. It can greatly shorten the perforation time compared with ordinary cutting heads. It is especially suitable for high-speed cutting of thicker plates.
The equipment has a power failure memory function, back-cutting function, fault alarm, emergency stop function, and fault content automatic display function.
Fiber Laser Cutting Machine Features
Sealed Design to Prevent Laser Damage to Human Eyes
In the International Classification of Lasers, Class 3 or Class 4 lasers can be used for cutting. The enclosed fiber laser cutting machine can isolate the laser from the operator to the greatest extent. After adjusting various parameters, you can close the side sliding door of the fiber optic metal plate. The fully enclosed laser cutting machine can avoid laser damage to the human body.
Reduce The Harm of Smoke to People
The cutting method of the full-coverage fiber laser cut machine is thermal cutting. This method will generate a lot of smoke and dust during the cutting process. Although the fiber machine has a dust removal device, escaping smoke and dust is inevitable. It will inevitably cause pollution and harm the working environment. The operator is also in a bad health environment. But the closed structure can produce very little smoke and dust to escape, even negligible.
This is a fully enclosed laser cutting machine. It will completely isolate the processing structure, processing materials, carbonization device, etc. from the operator. So the risk of accidents is greatly reduced.
Without fiber laser cutting machines, the medical field cannot imagine its present and future. From cutting small parts for truly complex medical devices to performing laser surgery on human tissue, you can use laser cutting at every step in the medical field.
Jewelry manufacturers are in urgent need of reliable and cost-effective technology. It can provide precise cutting, excellent edge quality, the ability to cut complex shapes in a short time, and high production capacity. Fiber laser cutting machines should meet all these requirements and are popular in the industry today.
The automotive industry is huge and growing every second. The use of fiber laser cutting machines makes it easier for the industry to cope with daily design advancements and technology. These machines are great for cutting smaller and intricate parts of your car. It is also possible to cut hydroformed parts, which are 3D-shaped metal parts, with high precision. These machines are not only popular for cutting metal, but some other materials as well. Unlike traditional crafts that use blades, there is no fraying left when cutting the fabric.
Silicon is the most important material on the PCB in the semiconductor and microelectronics industry. As electronic devices become more compact, PCBs are likely to get smaller. In this case, fiber laser cut machines are ideal for cutting thin and brittle materials such as silicon.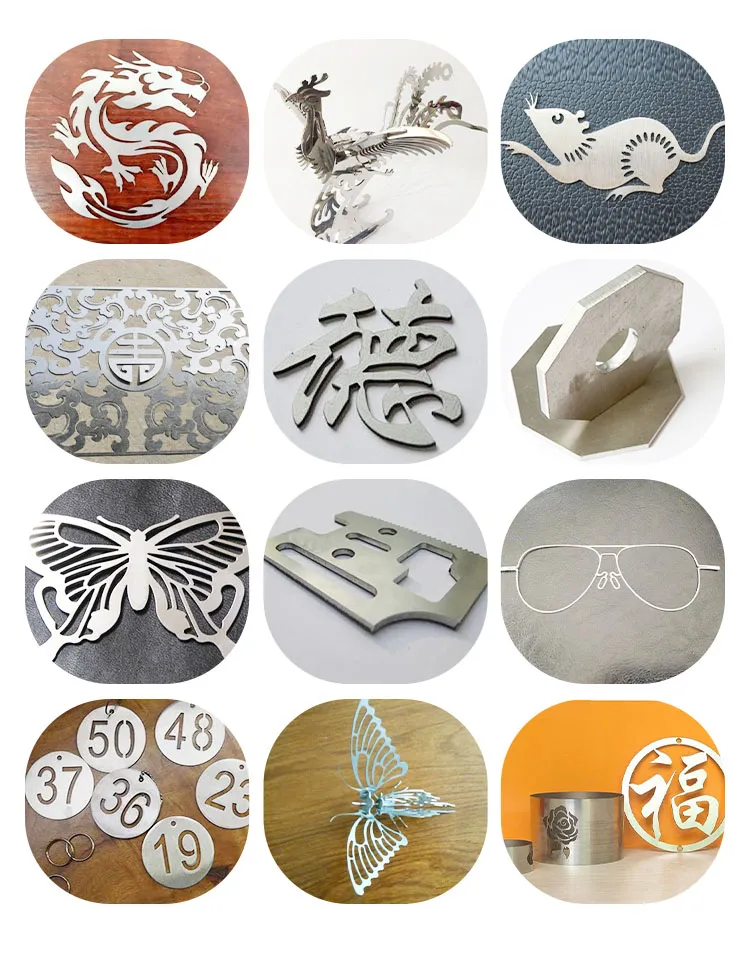 Actual Cases And Customer Inspections