Laser Rust Cleaning Machine Parameters
Model
HTCL1000/1500/2000/3000w
Laser source
Raycus/MAX/BWT
Laser Power
1000/1500W/2000W/3000W
Fiber cable L
10M
Wavelength
1080nm
Clean speed
≤40 M²/Hour
Scann speed
0-14000mm/s
Cooling method
Water cooling
Warranty period
1 year
Laser frequency
10-20KHZ
Voltage
220V/2P for 1000W and 1500W
380V/3P380V/3P for 2000W
Temperature
5-40℃
Laser Metal Cleaning Machine Function
This fiber laser metal cleaner machine can quickly remove metal, paint, thick coatings, and rust on any hard surface. It can also remove all kinds of contaminating oxides, grease, resin, glue, residue, and even rough metal surfaces.
The fiber laser cleaning machine can non-destructively detect post-weld oxides and handle pre-weld residue and slag cleaning.
The laser metal cleaning machine can clean the mold. Such as rubber mold, food-grade stainless steel, vat mold, etc. After production processing, aging stains on precision parts are also removed. The powerful clean laser machine series can efficiently clean and maintain precision parts.
This fiber laser cleaning machine can realize cleaning, welding, cutting and other functions. To achieve other functions, only need to replace the laser head. The machine supports customization, you can contact our sales manager to get the product catalog.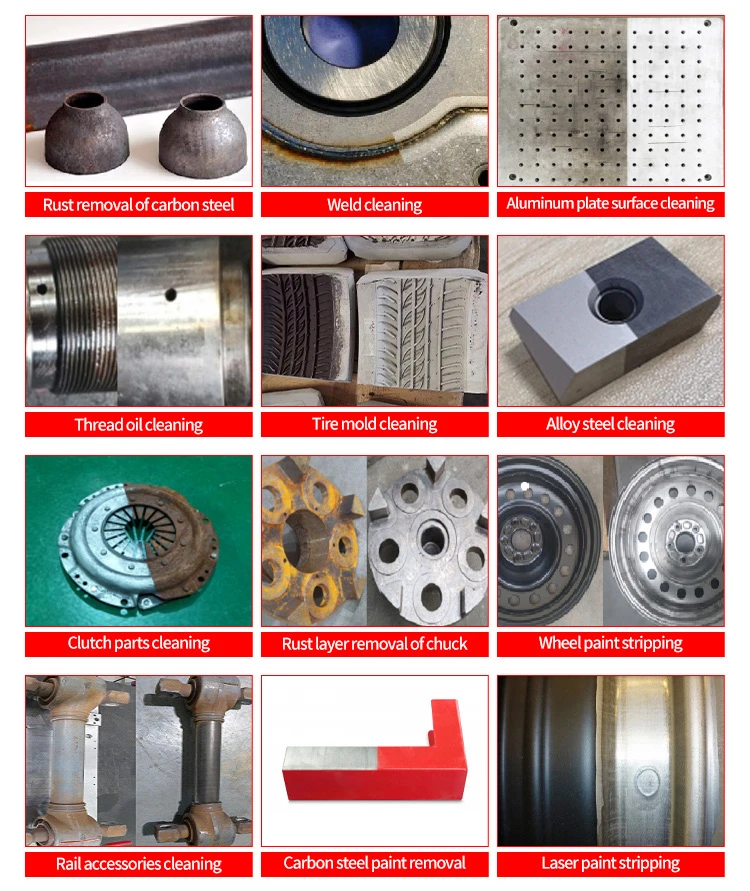 Actual Cases And Customer Inspections