Oil, rust, mold-release agents, or paints are sometimes not easy to clean from metal parts. These contaminants gradually degrade the lifespan of equipment or machinery. In this case, a laser cleaning machine is an excellent choice to remove such elements. However, the tricky question is, "how do you choose the right laser cleaning machine for your project?".    
Before we answer that question, let's first know why laser cleaning machine is so popular. Laser cleaning is a non-contact automated process. As a result, it's effortless to control this equipment and clean the metal parts in the fastest method. Since the laser ablation process doesn't require chemical use, this machine is safe. It is especially helpful in the food and medical industry. It also doesn't change the chemical composition of the material during the process. Laser cleaning machines are popular in a wide range of applications. Cleaning molds, rust, welds, or surface cleaning are the famous application of this device. However, laser cleaning machines also contribute to the automotive, aerospace, and shipyards industries. 
This article will be an excellent buying guide for laser rust removal machines. It will describe the fundamental parameters of choosing a cleaning laser machine. At last, We will bring some of the most popular cleaning laser machines for your project.
How to Choose a Suitable Laser Cleaning Machine?
We have classified the following points into two main categories based on process and machine parameters. Why is it necessary to consider these factors?? Because these factors determine the overall specification of a laser cleaner machine. A suitable laser cleaner machine will provide you with the best product solution and expected performance.
According to control theory, a process parameter is a process component's measured value. Usually, the operator monitors or controls these process parameters based on different circumstances. The following parameters might help you choose the best laser-cleaning machine.
Laser Power and Pulse Frequency
Laser machines can have two typical laser frequencies: continuous and pulsed. Continuous laser machines produce a constant flow of energy. It means that an uninterrupted laser frequency provides high-quality and effective laser beams. Continuous laser is famous for laser cutting and welding. This type of laser machine requires high energy consumption.
On the other hand, pulsed laser machines produce interrupted laser frequency at regular intervals. This laser power is famous for cleaning, marking, or etching. Therefore, it is essential to check the laser power type of the machine you are choosing.
Safety has always been the primary consideration for every laser cleaning machine. Typically, a laser machine requires a class-1 safety enclosure. It makes the work safe and reliable. Every laser machine manufacturer must meet the requirement of safety regulations all over the world. However, if you see the laser machine is already equipped with a class-1 laser safety enclosure, you won't need any PPEs. In the case of a handheld laser cleaning machine, you should ensure the safety enclosure class. If it is class 4, then you may need additional PPE.
Some people may misunderstand between cleaning speed and scanning speed. A scanning speed refers to the galvo scanners working speed, producing a certain width of a laser spot. In this case, the laser cleaning speed is perpendicular to this laser spot. For example: In Hanten CNC, different laser types offer a cleaning speed between 0.5m2/h to 15m2/h.  
Cleaning times are another essential factor that you should consider. Cleaning times refer to the number of operations required to get the desired cleaning properties. At different laser cleaning speeds, the surface roughness change is also different. You may need consecutive laser cleaning operations to get the desired state.
During laser cleaning, the process will produce lots of contaminants. In this case, laser cleaning standards require a vaporization process to convert the contaminants into dust or fumes. It is necessary to extract these contaminants from the working space. However, ensuring this feature protects workers and keeps the working area clean and tidy.
First, check the fume extraction nozzle position. After that, check the safety measures of PLC automated communications. Lastly, check the filter and extraction units based on the type of dust or fumes produced.
Overlap Ratio and Energy Density
The overlap ratio is another fundamental part of laser cleaning. It is seen that overlap ratio and energy density change cleaning speed, pulse frequency, and power. Therefore, these two parameters change the total value of the surface roughness of the projected metal part.
Why is it necessary to consider this when choosing a suitable laser cleaning machine? Because it will tell you the productivity of the whole machine. You can check these properties from the lab test documents provided with the laser cleaning machine.
Machine and Other Parameters
We have learned the fundamentals of some process parameters that may help you make the right decision. This section will consider some visible machine parameters of different types. The following parameters are important to consider if you want to ensure the highest productivity from your business.
Based on the mobility features, there are three types of laser cleaning machines that you can find. These types are:
Handheld laser cleaning machine: This laser cleaner is ideal for cleaning metal parts away from the repair line. They are relatively minor in size and can fit in a suitcase. It weighs approximately 15 – 100 kg. Besides, this laser cleaning machine is ideal for cleaning creeks and nooks equipment.
Fixed laser cleaners: This type of cleaning laser machine is ideal for methods using conveyor belts. These conveyor belts carry the metal part under the laser gun. Later, these laser cleaning machines automatically clean the metal surface. This laser cleaner is faster than the other two types. As a result, this machine ensures a factory's high productivity.
Cabinet system: This laser cleaning machine offers maximum protection during operation. It has a safety enclosure which keeps the work safe.
You may want additional equipment from a manufacturer to maintain and repair the machine. Few laser cleaning machine manufacturers offer extra equipment for maintenance. In this case, you can consider this factor to find the best option for your cleaning applications. Additional features might include cooling systems, digital displays, emergency methods, mobility features, etc.
It is one of the most crucial factors you should ensure from the manufacturers. After buying a laser cleaner machine, most buyers might face some difficulties while using it. In those cases, you need quick experts who can solve your problems. Experts from the manufacturers are highly recommended. 
In HantenCNC, you will get one year warranty on the machine. Besides, they provide the best customer service for their customers. You can contact them either through email or call, or video. Finally, they also offer their customers lifelong maintenance and spare parts.
The final important factor in selecting a suitable laser cleaning machine is the price of the laser cleaners. This machine's budget typically depends on the size, power, and technology that comes with the laser cleaning machine. There are hundreds of laser makers presenting their creations in the laser market. You might find their products expensive or cheap. It is wise to check the process and machine parameters in this case. Considering those parameters with different brands, you can ultimately know which one would be the best option. Finally, if you still feel confused, don't hesitate to contact HantenCNC laser experts. We hope you will love their responses and they will surely satisfy your needs.
Popular Laser Cleaning Machines
In this section, we have brought four popular laser cleaning machines that you can consider. These cleaning machines are highly durable and work as expected. You can visit the product page by clicking on the link attached.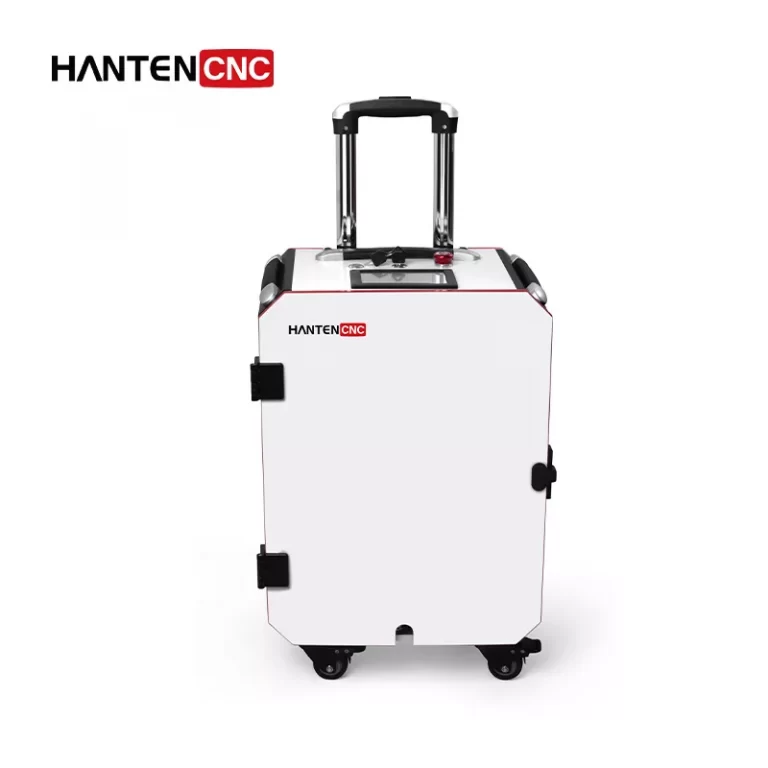 This 100W pulsed laser cleaner machine weighs approximately 100 kg. It is easy to carry and simple to use. The design included a backpack structure, making it super convenient to carry. It offers air system cooling features.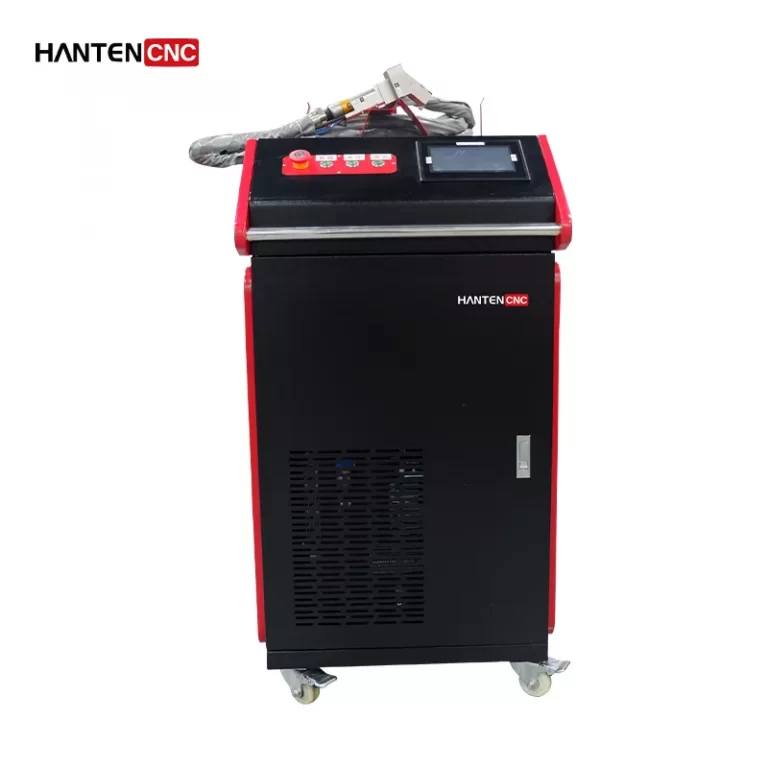 This model has three different power levels, 1000W, 1500W, and 2000W. You can decide which power level is the best depending on your project requirement. It offers a water cooling system which makes the machine more effective. However, it weighs approximately 200 kg.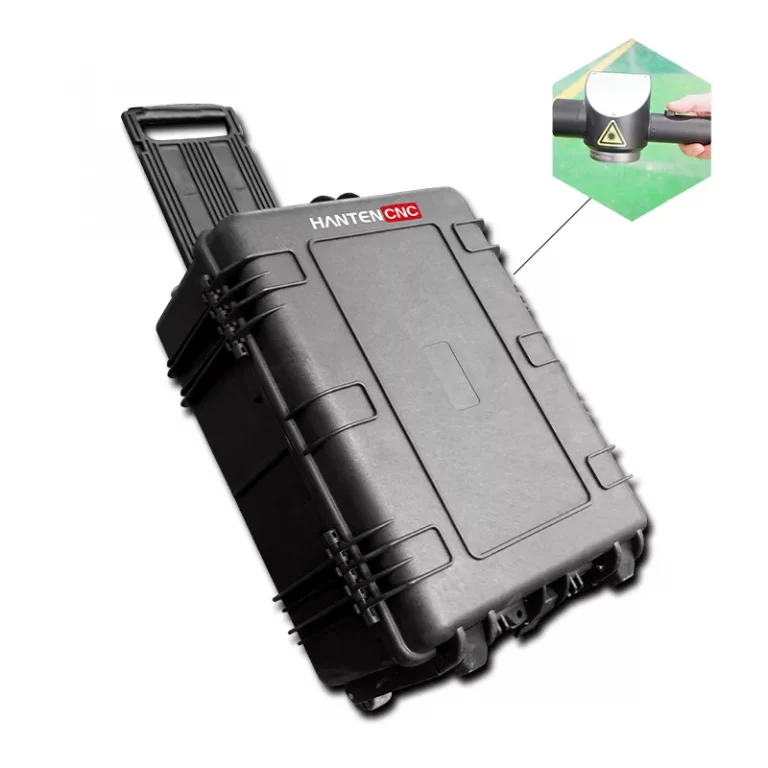 Another backpack-style laser cleaner comes with four different power levels, 100W, 200W, 300W, and 500W of the laser source. It also weighs approximately 100 kg. It also has an air cooling system similar to the first option.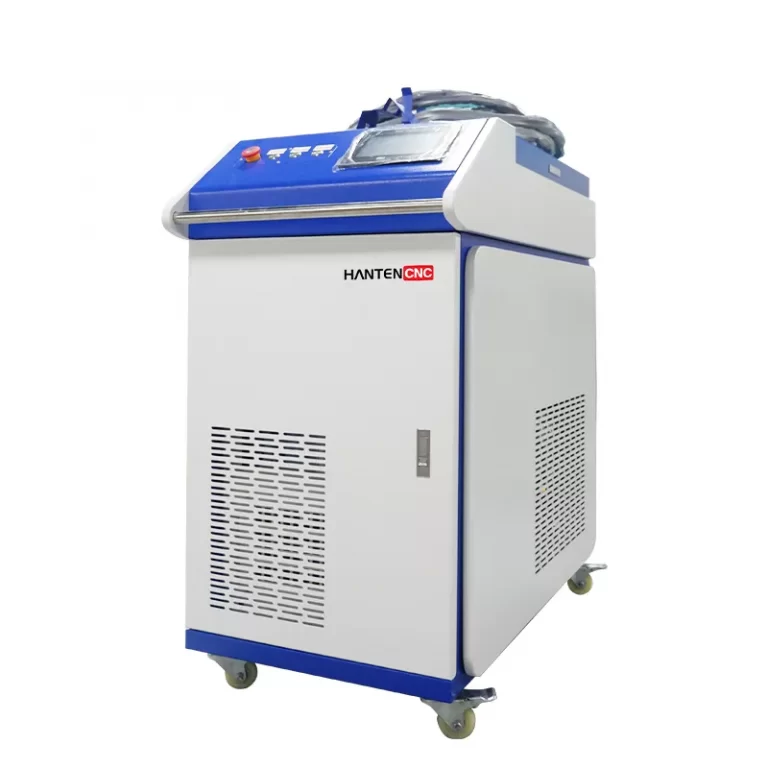 Another water-cooled laser system offers 1000W laser power. It weighs approximately 200 KG. However, it is a suitable option for indoor applications. There's a wheel below, which makes it portable.
It is important to note that all these laser cleaning machines come with the necessary equipment and guidelines. The manufacturer provides one year warranty and lifetime maintenance facility. We think these laser cleaning machines can be the best buddy in your lab.
A laser cleaning machine is an excellent tool in all repair workshops or recycling factories. It is tricky to choose a suitable laser cleaning machine for your application. However, all you need to do is to understand the process and machine parameters of the laser cleaning machine. You can easily make the right decision if you get all the information above.
HantenCNC is a leading laser cleaning machine manufacturer in the world. It has an excellent reputation for supplying different CNC and laser machines. If you have any queries, don't hesitate to contact us. HantenCNC experts are always ready to answer your questions.