Laser technology is playing an increasingly important role in modern society. As an important application of laser technology, fiber laser plays a key role in communication, medical treatment, and industrial manufacturing. There are many different types of fiber lasers on the market. Choosing a product that suits their needs has become a headache for many.
This article introduces fiber laser machines' basic principles, technical characteristics, and selection points. Whether you are a beginner curious about fiber laser technology, or a professional looking for the latest application trends, this article will provide comprehensive and in-depth knowledge. Choosing the right fiber laser is a challenging task. But by reading through this article, you will be able to make more rational decisions.
Basic Principle of Fiber Lasers
A fiber laser machine is a device that uses fiber as an amplification medium to amplify laser signals. Its basic working principle involves the laser amplification process and the feedback mechanism of light. The following is the basic principle of fiber laser machines.
1. Stimulated Radiation Amplification
Laser amplification is achieved by stimulated radiation. In the optical fiber, specific excited state active substances are called activators. It is usually a rare earth ion. Such as ytterbium, neodymium, erbium, etc. When external energy is injected into the activator, the electrons of the activator are excited to a high energy level. When an electron at a high energy level is excited by an incident photon, it can produce a new photon of the same frequency and phase as the incident photon by the mechanism of stimulated radiation. This amplifies the laser signal.
2. Optical Feedback Mechanism
To generate laser amplification, fiber lasers need a feedback mechanism. This makes it easy to amplify the laser signal many times in the fiber. This is usually done by placing optical mirrors or gratings at either end of the fiber. This optical cavity can propagate the laser signal back and forth in the laser amplification medium, resulting in continuous enhancement of the laser signal. One of the mirrors is translucent, allowing some laser photons to escape. This is the output of the laser.
When the photons emitted by the electrons in the activator are reflected and amplified several times through the optical cavity, they will reach a high enough energy and coherence. This creates a laser beam. This laser beam escapes through the translucent mirror and becomes the laser's output.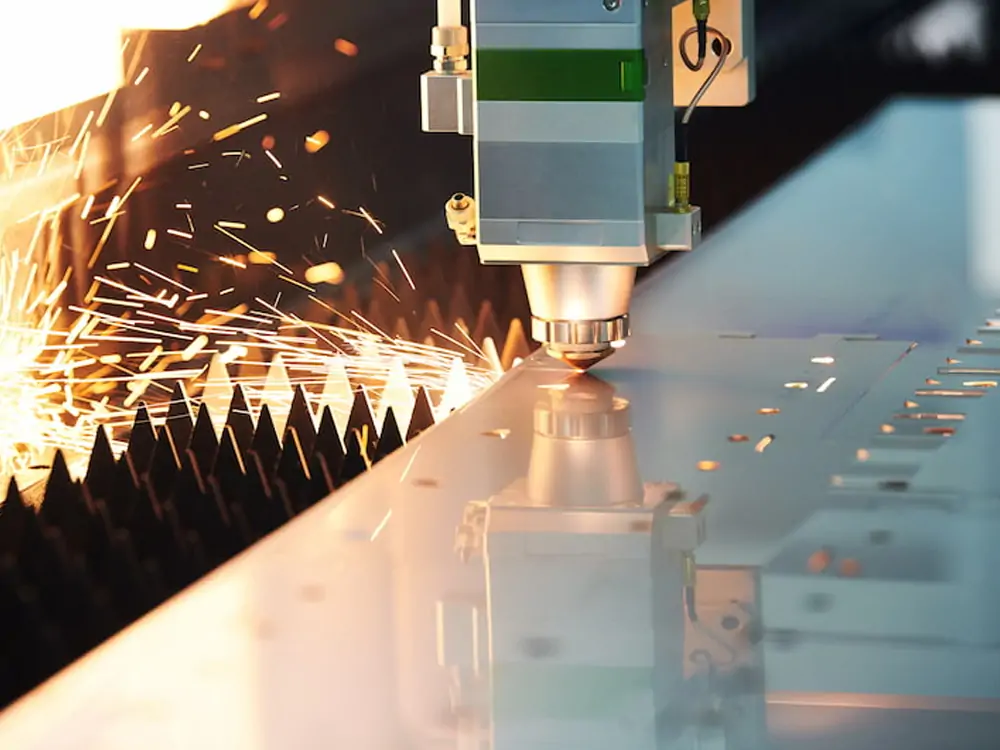 Fiber Laser Machine Features
Fiber laser machines are widely used in many applications. Its characteristics make it a popular type of laser. The following are some of the main features of fiber lasers.
1. Small Size And Compactness
Fiber lasers are designed to maximize fiber optics' small size and flexibility. So it can make very compact devices. This makes them suitable for limited-space applications while facilitating integration into complex systems.
Beam propagation in optical fibers is limited by waveguide guidance. Therefore, the beam of a fiber laser machine usually has high quality and coherence. It can be focused on smaller points and is suitable for precision machining and imaging applications.
3. Stability And Reliability
The structure of the fiber laser machine is simple, and no complex optical components need to be positioned and calibrated. This makes them generally stable and reliable over long periods of time.
Fiber lasers usually have high electro-optical conversion efficiency. It can convert the input electrical energy into a laser output, reducing energy waste.
Fiber lasers in different wavelength ranges can be manufactured by selecting appropriate activators and doping materials. This gives them flexibility in medical, communications, and scientific research applications.
6. Anti-interference Property
The beam in a fiber laser travels through the fiber and is less disturbed by the external environment. Such as mechanical vibration and electromagnetic interference. This helps maintain high output stability.
7. Long-distance Transmission
Because of the low transmission loss of fiber, fiber lasers can be used for long-distance laser signal transmission. Such as in communications and sensing applications.
8. Flexible Output Power Regulation
By controlling the input current or other parameters, the output power of the fiber laser can be easily adjusted to meet the requirements of different applications.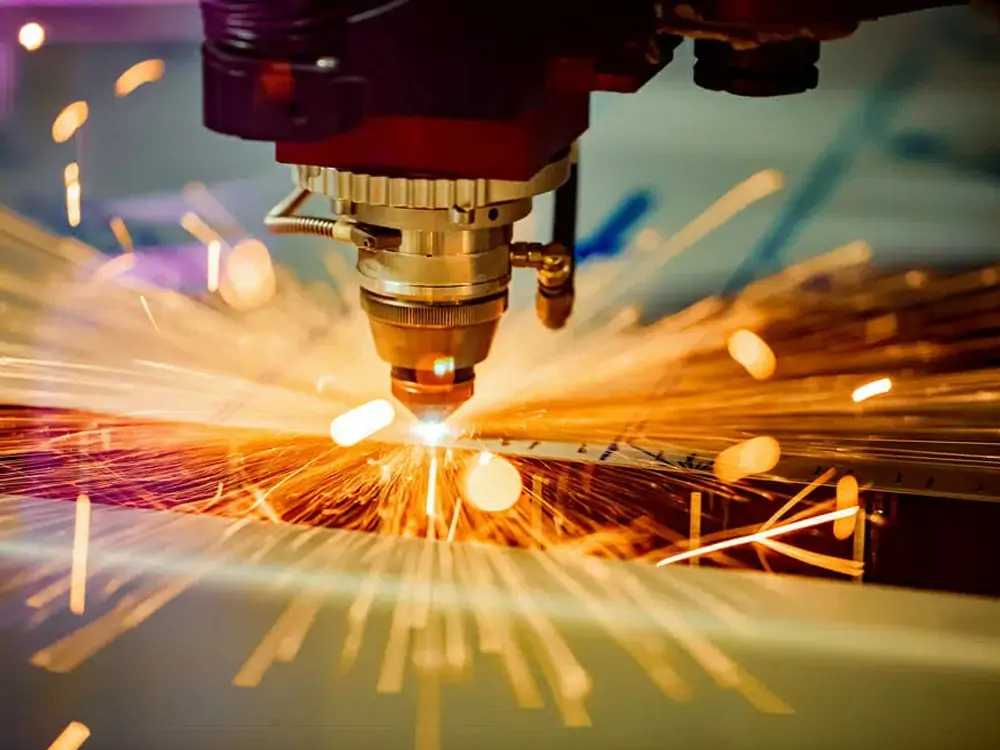 What Should You Consider When Buying A Fiber Laser Machine
Choosing the right fiber laser involves considering several factors. These ensure that you choose the right machine for your application. Here are some guiding steps to help you choose the right fiber laser.
Define Application Requirements
Identify your application area. Such as material processing, medical treatment, communications, scientific research, etc.
Determine the main use of the laser, such as cutting, welding, marking, etc.
Specify the desired laser output wavelength, power range, and beam quality.
Consider Performance Parameters
Output power: Determine the required output power range according to the application's needs.
Wavelength range: Select the wavelength range suitable for the application. This is usually based on material characteristics or transmission requirements.
Beam quality: Select the laser with the right beam quality according to the accuracy requirements.
Reliability And Stability
Consider the reliability and long-term stability of the laser. Especially for applications that need continuous operation.
Check the reliability data and warranty policies provided by the manufacturer. Learn about the life expectancy and stability of lasers.
Filter laser options that meet the expected performance based on the budget range.
Consider not only buy costs but also operating costs, maintenance costs, and additional equipment costs.
Technical Support And After-sales Service
Choose a manufacturer or supplier with a good reputation and reliable technical support.
Understand after-sales service policies, including repairs, upgrades, and replacements.
User Reviews And Experience Sharing
Search online for relevant user reviews and experience sharing to learn about other users' experiences.
Consult channels such as professional forums, social media, and trade shows.
Considering the above factors, choose the fiber laser that suits your needs. The final choice should result from balancing performance, reliability, cost, and application requirements. If you need more specific advice, it is recommended to consult the laser manufacturer.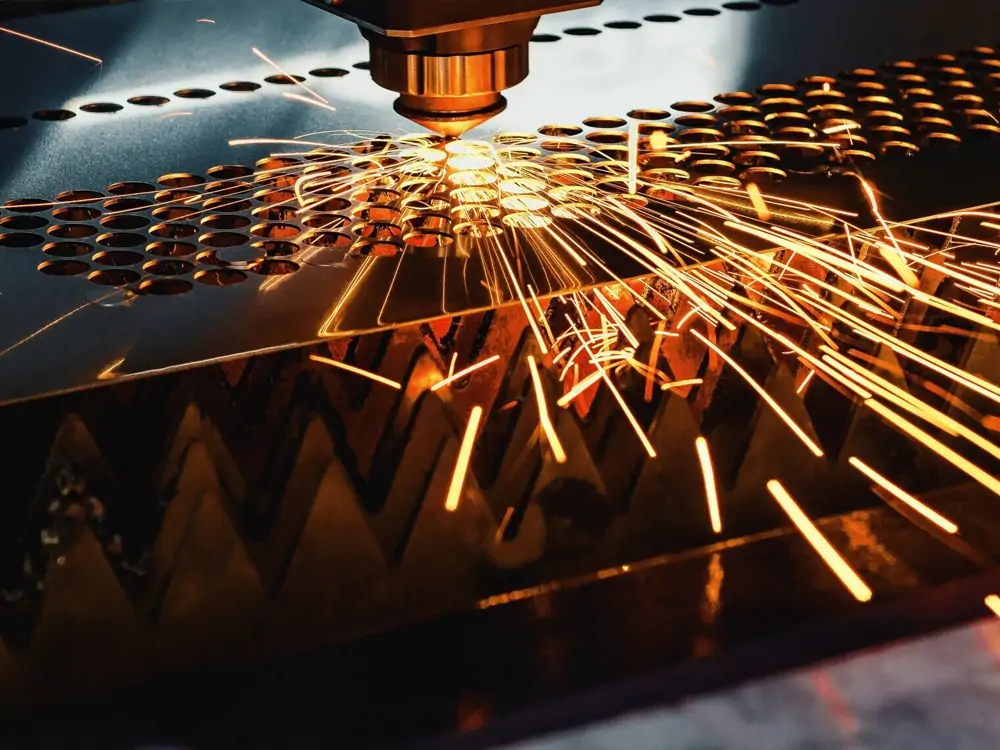 When choosing the right fiber laser, it is important to consider factors such as application requirements, performance parameters, cost, and reliability. The right choice can provide a solid foundation for the project's successful implementation and efficient operation.
Each fiber laser has advantages and limitations. Hopefully, this article will help you find the best solution. By weighing all these factors, you can choose the fiber laser that is best for you in terms of performance, reliability, and cost-effectiveness, bringing success and progress to your project.